Maryland
Loading

Listing of Maryland Professional Organizers
One of my goals for this website is not only to provide you with great information but, if you find you have the need for one-on-one assistance, Straighten-Up-Now.com wants to help you find assistance in your area.
---

Click the lavender bar on the left and subscribe to the RSS feed to be notified of new listings as they become available.
---
ACCOKEEK, MARYLAND

Let's Get It Together Professional Organizing
Owner: Liz Mason
Goal: Liz Mason of Let's Get It Together Professional Organizing specializes in professional organizing for retail establishments, private residences and senior citizens. We offer workshops and seminars to help our clients simplify their lives.
Phone: 301-437-1636
Web Site: www.lets-getittogether.com
E-Mail: liz@lets-getittogether.com

---
ARNOLD, MARYLAND

Transforming Spaces, L.L.C.
Owner: Kathy Meckley
Goal: Kathy Meckley of Transforming Spaces, LLC offers corporate and residential organizing, interior re-design, space planning, paper management, file management, downsizing, home staging for resale, relocation design planning, coaching, and public speaking.
Phone: 410-353-1413
Web Site: Not available
E-Mail: kathy@transformingspaces.biz

---
BALTIMORE, MARYLAND

Organize
Owner: Susan Davis
Goal: Susan Davis of Organize provides residential and personal organization services including; eliminating clutter, storage solutions for every room in the house, personal and event planning, photograph and memorabilia organization, provide design and installation services.
Phone: 443-676-5624
Web Site: None
E-Mail:

Absolutely Organized
Owner: Katherine Trezise
Goal: Katherine Trezise of Absolutely Organized helps homeowners and small business owners in the Baltimore Metropolitan area lead more organized lives. We specialize in organizing homes, small business offices, paperwork, and computerizing financial records.
Phone: 410-329-3300
Web Site: www.Absolutely-Organized.com
E-Mail: Info@Absolutely-Organized.com


NEAT & TIDY Professional Organizing Services
Owner: Alyssa Willis
Goal: Alyssa Willis of Neat & Tidy Organizing will help you conquer the clutter in your life.
She will help you develop the tools needed to stay organized. With compassion, creativity and expertise she will assist you in the areas of organizing.
Phone: 410-206-6492
Web Site: www.neatlyorganized.com
E-Mail: info@neatlyorganized.com

---
COLUMBIA, MARYLAND

My Anointed HandsOwner: Lilly I. Field
Goal: Lily I Field of My Anointed Hands provides organizational serivces to residential and small business clients. She stands completely on God's Word, "Set thine house in order" 2 Kings 20:1.
Phone: 443-418-8022
Web Site: www.myanointedhands.com
E-Mail: lilyifield@myanointedhands.com


Achieves Results
Owner: Bernadette Michaels
Goal: Bernadette Michaels of Achieves Results is focused on serving businesses and increasing their productivity. She provides solutions and seeks to streamline work processes, customize filing systems and organize desk areas and is a Certified GO System Trainer helping people to become more focused, organized and productive.
Phone: 443-277-2048
Web Site: www.achievesresults.com
E-Mail: bmichaels@achievesresults.com

---
CROFTON, MARYLAND

Conquer Clutter
Owner: Trish Walsh
Goal: Conquer Clutter offers a hands-on, one-on-one approach to organizing. The de-clutter process can be physically as well as emotionally overwhelming for many individuals. That's why, throughout the process, we provide you with tips and techniques to help you make the often challenging decisions needed to achieve your organizing goals.
Phone: 301-452-4734
Web Site: www.ConquerClutter.net
E-Mail: conquer_clutter@yahoo.com



---
ELKTON, MARYLAND

Klutter Killers
Owner: Tamme Hackett
Goal: Tamme Hackett of Klutter Killers Specializes in residential and commercial de-cluttering, her staff will transform any room, basement, garage, facility, or office. They have effective techniques to help her clients with space management and consolidation. Staff members of Klutter Killers are licensed, bonded and insured.
Phone: 866-285-1891
Web Site: www.klutterkillers.com
E-Mail: katolondy@aol.com

---
FREDERICK, MARYLAND
Clean Living
Owner: Marianna Erickson
Goal: Marianna Erickson of Clean Living, whole health practitioner emphasizing organizing and redesigning, has created a relaxed, effective "down-to-earth" 3-step system to assist you with organizing your home. Her system addresses your personal and spiritual transformation, your desire to create a healthier lifestyle and home, and supports environmental stewardship.
Phone: 301-471-6224
Web Site: www.cleanliving4u.com
E-Mail: cleanliving4u@aol.com

---
GAITHERSBURG, MARYLAND

Organized 4 Life
Owner: Suzanne Truesdale
Goal: Suzanne Truesdale of Organized 4 life serves clients in the MD/DC/NOVA areas and works with them to learn what organizing style best fits their needs and personality. Every individual has a certain style of organizing and it's her job to find that style and assist them in implementing & maintaining it.
Phone: 240-483-5447
Web Site: None
E-Mail: suzyanny@yahoo.com

---
HAGERSTOWN, MARYLAND

Adventures in Organizing
Owner: Sharon Womack
Goal: Sharon Womack of Adventures in Organizing offers consultations and on-site residential and business organizing, time management, facilitate family teamwork, public speaking, and am developing a class the continuing ed catalog for the local community college.
Phone: 301-791-1846
Web Site: None
E-Mail: sswomack5@aol.com

---
HARFORD, MARYLAND

Get It 2gether Organizational Services
Owner: Rose Zappa-Jehnert
Goal: Rose Zappa-Jehnert of Get It 2gether Organizing assists clients in bringing balance and freedom to their lives through organization of space and time. Services include reorganization of homes & offices, time management, personal coaching & goal setting, paper management, event & meeting planning and assistance for ADD or chronically disorganized persons.
Phone: 410-557-0497
Web Site: www.GetIt2gether.com
E-Mail: rose@getit2gether.com

---
HAVRE DE GRACE, MARYLAND

Sappari Solutions, L.L.C.
Owner: Nettie Owens
Goal: Netti Owens of Sappari Solutions provides organizing services for the home and small business; streamlining your life so you can LIVE!
Phone: 443-904-5412
Web Site: www.sapparisolutions.com
E-Mail: nettie@sapparisolutions.com

---
HOWARD, MARYLAND

Destination Organized
Owner: Valerie Lynn Cowan
Goal: Valerie Lynn Cowan of Destination Organized and her team help BUSY people with overloaded lives, reclaim their energy and time through organizing services and solutions, offering free consults with no minimum. Serving God by serving others.
Phone: 410-203-0338
Web Site: www.destinationorganized.com
E-Mail: info@destinationorganized.com

---
LAUREL, MARYLAND

Minor Detailz, L.L.C.
Owner: Wendy Glover
Goal: If you're having some difficulty getting or keeping your home organized, you're not alone. With our busy schedules, sometimes home organization isn't at the top of our priority list. Minor Detailz can provide you with efficient home organizing services. From basements to attics, Minor Detailz has the expertise and creativity to achieve the results you want, on time and within your budget.
Phone: 301-906-2125
Web Site: www.minordetailz.com
E-Mail: wendy8480@verizon.net

---
ROCKFORD, MARYLAND

Clutterbusters!!
Owner: Besty Fein
Goal: Betsy Fein of Clutterbusters helps people organize their homes or offices. They help people decide what to keep, donate or trash and then set up systems to help them maintain it!!
Phone: 866-CLUTTER
Web Site: www.ClutterBusters.com
E-Mail: Betsy@ClutterBusters.com

---
ROCKVILLE, MARYLAND

Back In Sorts Organizing Systems
Owner: Jane Campbell
Goal: Jane Campbell, Certified Professional Organizer® of Back In Sorts Organizing Systems, understands clients tend to be busy & ambitious, with fingers in many pies, church involvement, kids, hobbies, extended family, plus professional involvement. If you're feeling 'out of sorts', let her get you 'Back In Sorts'. Insured moving services available.
Phone: 301-603-7678
Web Site: None
E-Mail: janecampo@comcast.net


Organize University
Owner: Kristine Zettler
Goal: Kristine Zettler of Organize University provides professional and compassionate Hands-On Organizing Services, Life Coaching and Party Planning. She will help you purge, sort, organize and and set up systems that work with your unique lifestyle and needs.
Phone: 301-263-9150
Web Site: www.organizeu.org
E-Mail: kriszettler@aol.com

---
SEVERN, MARYLAND

Be Organized
Owner: Barb Wilhelm
Goal: Barb Wilhelm of Be Organized is a Christian Women's speaker, does home decluttering and staging before selling your home, residential & office organizing are her specialty. De Clutter - De Stress with Barb.
Phone: 410-627-5086
Web Site: None
E-Mail: beorganized@verizon.net

---
UPPER MARLBORO, MARYLAND

Organized Life Etc., Inc.
Owner: Mardona Akines & Dawn Lawson
Goal: Mardona Akines & Dawn Lawson of Organized Life Etc., Inc. provide excellent customer service and attention to detail. They provide experience that is positive and life changing, that meets your needs and surpass your expectations. They provide residential and business organizing, interior decorating and redesign, home staging, and move assistance.
Phone: 240-573-4270
Web Site: www.organizedlifeetc.com
E-Mail: sales@organizedlifeetc.com

---

If you are a professional organizer and would like your business to be listed in this directory, please go to the Directory Form page. Fill in the information, review the information on the page with regard to renewals, removals, etc., and submit your payment (securely through PayPal). You will be contacted (within one week or less) regarding your request for listing.
---
Disclaimer: Any reference obtained from this website to a specific commercial product, process, or service does not constitute or imply an endorsement by Straighten-Up-Now of the product, process, or services listed. Neither Straighten-Up-Now nor any of its members makes any warranty, express or implied, for any product, process or services listed on this website. Nor does it assume any legal liability for the accuracy, completeness, or usefulness of any information or the links on this website.
---
Home|About Me|Site Map|Contact Me|What's New?|
Hi, this is Shelly Morton..the author of this website. I know you hear a lot about how to build an online business, but nothing compares to what you will see when you click the box below. Simply the best way to break the 9-5 routine!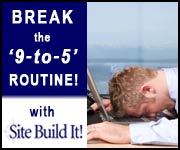 ---