Magazine Organizers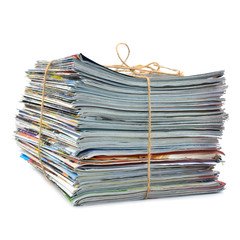 Magazine Organizers: What's in your stash?
Confession time:
Are you a catalog junkie?
Do you have a pile of professional periodicals that you never read?
Do you have a stash/pile of clippings from newspapers, magazines or travel brochures that are getting out of hand?
When was the last time you threw out a newsletter?
Does the thought of ordering yet another magazine get your heart rate up?
Do you have a secret stash of catalogs no one knows about?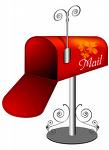 Tame the Clutter With
Magazine Organizers
Well, if so, take heart! The information below on magazine organizers will help you tame the tyranny of clutter related to these items.
I've lumped newspapers, professional periodicals, newsletters, magazines and catalogues together for a reason. They all have similar clutter problems. They are kept for the same reasons.  They can be stored the same way as the magazine organizers.
I research information for clients and this website frequently. The informative periodicals and newspaper clippings can take on a life of their own after a while if I'm not careful.

I've learned these tips and tricks the hard way, but you get the benefit for free!
So, here's some general information on magazine organizers (and related items). Then I'll get right down to the organizing tips!
---
Magazines

Typically, you won't care about every article in any magazine.
There are probably just one or two articles of interest in any one magazine (if any at all).
Clip and keep what you want and get rid of the rest.
If there are certain magazines you know you aren't reading, call and cancel the subscription.
You can always browse through the latest issue at the supermarket.
If you find one that is particularly interesting, bring only that particular issue home.
Check out the information below on magazine organizers for the ones you want to keep.
---
Catalogs

This is probably less of a problem today than it was a few years ago as everyone has a tendency to shop online or through an app on their cell phone.  However, catalog shopping can be a lot of fun!
It's a great place for decorating ideas, craft projects, etc.
Immediately toss out the catalogs that you don't have an interest in as soon as they arrive.
If you get catalogs that you didn't request, call and ask the company to take you off their list.
You can store those you want to keep in a pretty basket.
Make sure you get one that's not too small.
Clip out items of interest for a specific project, theme, etc. and put them in a file folder and store it in a cabinet.
Alternatively, you can scan the clippings and store them digitally.
---
Professional Periodicals
When the latest edition arrives, toss out the previous one.
Clip out anything that looks like you might want to use it as a reference again.
You can scan the information and store it digitally instead of the hard copy.
---
Newsletters
Newsletters come in typically come as either electronic or hard copy/paper.
The same general rules apply to both.
These typically are a quick-fun-easy read.
Unless there is some specific information you need to keep, read them quickly and toss them immediately.
If there is information you want to keep, see the tips elsewhere on this page.
---
Newspaper Articles
This can apply to coupons as well.
Clip and keep only the relevant article or coupon(s) you need and toss the rest in the recycle bin.
If you're a gardener, you can compost the newspaper or shred it for mulch.
You can also repurpose it by lining the cat-pan or bird cage.
Another suggestion is to donate the paper to a nursing or assisted living facility, but make sure to ask first!
---
Filtering Information
For Your Collection

You shouldn't keep everything, so how do you decide what to do? Ask yourself:

Will you need this information in the future?
Why will I need that information for the future?
Is it likely I can easily find the information again by doing an Internet search?
This is the Information Age. Google can help you find what you need quickly and efficiently! We have fewer excuses to keep paper than any generation before!
---
Tips, Tricks and Helpful Hints
Do you have a project you want to start? Keep magazine articles and other notes in an idea book. You can keep specific notes, paint and fabric samples, etc. in there as well. Keep only the specific articles that apply to or provide inspiration for your project.
Tired of the same old meatloaf? Keep only the recipes you're likely to make! Don't just keep pulling out every recipe that sounds good. Test the recipe immediately. If it doesn't taste good, discard it. If your family hates it, get rid of it. If it's a keeper, add it to your collection.  Look for tips on how to store them below.

Inexpensive photo albums and scrapbook pages come with peel and stick pages. These can become your best friend. The entire page is sticky. It allows you to put as many oddly shaped items as possible on it, recipes, newspaper clippings, fabric swatches, etc.
Magazine Renewal Time? Think about how much of your time you actually spent reading that particular magazine. Weed out those magazines you don't really read. Your budget will thank you! Use magazine organizers to keep the rest under control (see examples below).
Utilize baskets for your monthly reading. Put them in the baskets when they arrive. Read them as soon as possible. Keep only the information you need from them. Get rid of the rest. See examples of magazine organizer baskets on this page.

You can place your articles, etc. in a 3-ring binder. Buy dividers and plastic sheet protectors as well. Sort your articles into categories and label the dividers. Instead of 3-hole punching the actual information, put the articles in the plastic sheet protectors.
If you have a lot of information, separate your information into separate binders and tab/label accordingly.
Keep only current issues of your magazines. Don't let them pile up month after month. Set aside a few minutes once a month to go through your magazines and pull out the information you want to keep. Try to do this before the next issue arrives!
A lot of senior citizens let catalogs pile up as fast as their magazine collections.  Most people keep them intending to buy things for themselves, gifts, etc. You can pull out the page with the item with the cover page and ordering page and clip them together. Put the loose items in files like Sally's Birthday or Hubby Christmas. Store the rest in magazine organizers like the ones below.
When new catalogs come in, throw out the old ones immediately!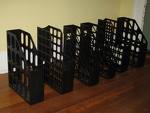 If you wish to keep or collect entire magazines, treat them right. Buy special magazine storage cases. Organize them by month/year and label the cases accordingly. They can be simple plastic or metal. Some are very decorative.
Special items can be laminated. If there is a group of like items, you can keep them together. Laminate them, then use a hole punch (but leave a margin for the hole so you don't ruin your work). A D-ring works great for keeping these items together.
Do you own a flatbed scanner? Consider scanning your articles and storing them as digital files either directly on your computer or on CD/DVD's. If you store them on your computer, be sure to burn a back-up. Label them accordingly and store them either in binder or a storage box.
Organize your computer files the same way you would organize your physical files.
---
As always, I hope this information was helpful.
If you need assistance starting an organizing project, clink on the links below to get started:
Go to:  Step #1 Start Here

Go to: Step #2 Organized Mindset
Go to: Step #3 Questions to Ask Yourself
Go to Step #4 Start Somewhere
Go to: Step #5 Baby Steps
Go to: Step #6 Basic Principles
Go to: Step #7 Other Things
Go to: Step #8 Last Things
---
Links to Other Information
Go to: Book Display
Go to: Declutter Articles
Go to: Entertainment

Go to: Hoarding
Go to: Magazine Organizers
Go to: Procrastination

Go to: Shop-a-holic
---
Click the lavender bar on the left and subscribe to the RSS feed to be notified of new listings as they become available.

---
Did you like this?  Please share it! Thanks in advance.
---
No matter where you are in life (stay-at-home mom, full or part time employee, retired, etc.) you can make a good income with a website.  Whether you write books, make crafts or something else, I highly recommend SBI.  It's the reason for this website.  Check it out below and become another solopreneur!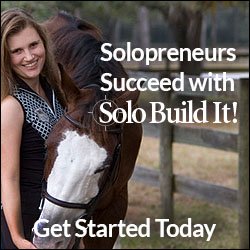 Hello!  This is Shelly Morton, the author of this website. I know you hear a lot of hype about making money from home and building a successful website.  I speak from experience as a solopreneur, I have succeeded with Solo Build It! There is simply no better way to build an online business.  Nothing else compares.  It's not a "get rich quick" scheme.  SBI provides you with all the tools and tips you need to be successful.  You put in the work and SBI will help you succeed!  SBI is simply the BEST way to get started for any "solopreneur."

---