Bibliophiles Rejoice! Book display tips, storage solutions, creative shelving ideas!
Loading
BOOK WORM SMARTS! Help with book display.

This is the tips page for you Bibliophiles. As an avid read-a-holic myself, I understand the dilemma about where to store our beloved friends!
The tips on this page will give you helpful advice and creative storage ideas. Use these tips and ideas to create your own unique book display.
---
Tips on How to Organize & Visually Balance Your Books:
Group books by categories (gardening, recipes, reference works, etc.)
Group books that are of the same height together. This makes for a more pleasing display and can prevent the books from warping.
Put the shelves & books where it makes most sense (cookbooks in the kitchen, reference books in your home office area, etc.) –although I wouldn't put automotive books in the garage. Use your common sense.
You can stack books horizontally. This will not harm the books and can break up the monotony of all books standing vertically. It can make a more fetching display.
Stagger your shelving and leave enough space between the shelves so that reshelving is easy.

To make a pleasing display and to break books into categories, place some personal accessories (knick-nacks, pictures, etc.) in a zigzag pattern from shelf to shelf.
Keep the larger bulkier books (reference and cocktail table books) on lower shelves where it's easier to access. This will also help keep the bookshelf weighted toward the bottom and prevent the top from tipping over.

Loose items associated with books (papers, pamphlets, maps, etc.) can be placed in decorative boxes and filed with your books. This will help contain the loose items and make a pleasing display.
Alphabetize or not to alphabetize, that is the question (enough literature humor)! I typically don't alphabetize. Size and shapes vary and it makes for a more cluttered look. As long as I keep like subject together, I can find what I'm looking for and make a more pleasing book display.
---
Pictures of Creative Shelving:
You will find pictures below of various unique ways to do a book display. These may provide some creative inspiration.
Here's a creative way to use your old books. If you can't bear to part with them, turn them into bookshelves!
---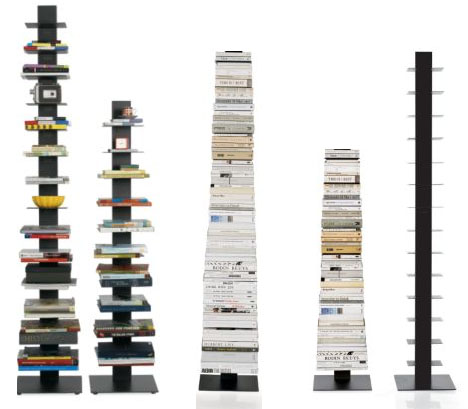 Here's a fun tower of books idea.
---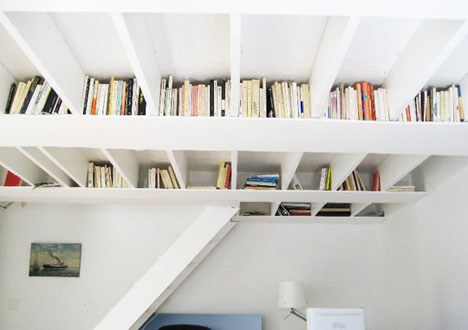 For those books you don't mind reaching with a ladder . . . try storing them on the ceiling!
---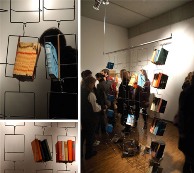 For those who are handy with tools . . . pipes and hanging baskets make affordable shelving.
---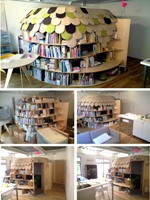 This is my favorite. Although the picture is not very clear, there is actually a bedroom inside the House of Books!! There is a hinged door that swings open to reveal the bed inside. Talk about surrounding yourself with your favorite hobby!
Do You Have A Great Book Display Tip?
Do you have a great book display tip? Share it with others!
---


Go to: Entertainment

Go to: Book Display

Go to: Magazine Organizers


Home|About Me|Site Map|Contact Me|What's New?|
---
Hi, this is Shelly Morton..the author of this website. I know you hear a lot about how to build an online business, but nothing compares to what you will see when you click the box below. Simply the best way to break the 9-5 routine!