CAR WASH
Clean Your Car the Right Way!
Car Wash Tips:  To say that cars are expensive is an understatement!
Whether you bought a car right off the showroom floor or you bought your brother's old jalopy, it still probably cost you a pretty good chunk of cash out of your pocket.
Next to your home, your car is probably the next most expensive asset you have.  The best thing you can do is take care of it properly.  The tips on this page will help you keep your ride sparkling clean the right way!
---
Car Wash Tip #1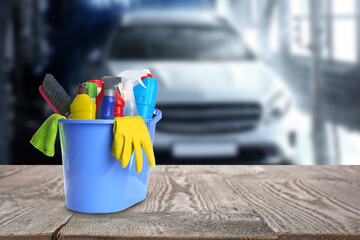 Supplies:  Save yourself time and hassle.  Before you begin, gather all the supplies you will need beforehand:
Wear proper clothing and shoes,
Water hose,
Bucket,
Sponge,
Soap,
Chamois or towels,
Tire black,
Bug remover,
Wax,
Anything else you think you might need.
---
Car Wash Tip #2
Move Your Car Out of Direct Sunlight:  This will help in several ways:
You won't get as hot,
Being out of direct sunlight prevents the water from drying too quickly and prevents water spots,
The soap can dry and leave behind a residue that dulls the paint.
---
Car Wash Tip #3
Pick the Correct Soap & Cloth:  Don't pick just any soap as it can damage the paint finish:
Don't use dish soap,
Don't use a liquid hand or bath soap,
Pick a soap that is specially formulated for washing a car,
Make sure the soap you pick doesn't have anything abrasive in it, so you don't ruin your finish.
Use a good sponge, microfiber cloth/towel or an old t-shirt.  Anything else might be too abrasive.
---
Car Wash Tip #4
Shine the Headlights:  Don't forget to shine those headlights.  Oxidation of the acrylic material that covers most headlights is bothersome and makes your car look older than it might actually be.
Be sure to wash the headlight area and scrub with a microfiber towel to remove as much material as possible,
Apply a coat of polish to the acrylic material to protect it from sun damage.  This will help prevent yellowing and keep your visibility bright.
If they are already yellow, seek help getting them restored or replaced.
---
Car Wash Tip #5
Get rid of the bugs:  Bugs can splatter on windows, mirrors, grills, hoods, trunks and everywhere else.
Use a bug remover product for tough bug splatter,
Wash the area to remove any bug remover residue,
Wipe dry.
---
Car Wash Tip #6
Clean the insides of door panels, hood & trunk:  Don't forget about these in-between spaces:
Open the car doors and wipe down the inside panels and door hinge areas,
Open the hood and wipe down these areas,
Open the trunk and do the same thing,
These will make your car look like it's been professionally detailed.
---
Car Wash Tip #7
Clean Exterior Trim:  Whether your car has shiny chrome or black trim, don't forget to clean and polish them.
If they have become a dull, try using a restoration polish to restore the luster, or
Get professional advice for a product to use.
---
Car Wash Tip #8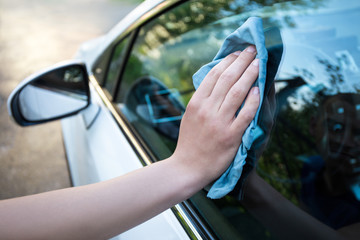 Clean Window Glass & Mirrors:  Be careful!  Many window cleaners have ammonia and should not be used on your car windows, especially if they are tinted in any way.
Use a window glass/mirror cleaner especially formulated for car windows and check to be sure they do not contain ammonia, or
Wipe them down with old newspapers.  It's an old-fashioned trick, but it works great!
---
Car Wash Tip #9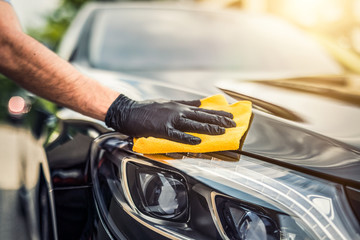 Wax It: Your car's paint finish has a clear coat to protect the paint but that doesn't mean that you shouldn't wax it periodically.
Heat, cold, sunlight, and road debris take a toll,
If you live in a cold climate, road salt from snow can harm your paint job,
Wax your car at least twice a year to add another layer of protection,
Wax on/wax off products like NuFinish are easy to use.  Wipe on with a microfiber cloth, wait for it to get cloudy, then wipe off.  No hard rubbing or elbow-grease needed!


---
Car Wash Tip #10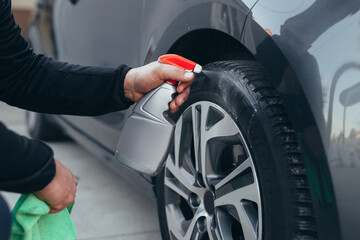 Don't forget to shine those tires:  This is the last step.  Don't do it before!
Use a tire shine product,
Spray on the tire only,
Don't overspray onto the finish, it might ruin it,
If you do accidentally overspray, clean with soap/water, rinse and pat dry,
Wipe off the tire shine with a microfiber cloth.
---
Now that your ride (a/k/a baby) is clean and shiny, don't you feel great!
It's always a lot of hard work to wash, clean and wax a car yourself, but usually you will do a far better job than a car wash place and it's also a lot less expensive!
Enjoy your shiny ride!
---
Links to Other Information
Go to: Car Accessories tips,
Go to: Car Carpet Cleaning tips,
Go to: Car Cleaning Kit tips,
Go to: Car Detailing tips,
Go to: Car Registration tips:
Go to: Car Trunk Organizer tips,
Go to: Car Wash tips,
Go to: Organizing Your Car tips.
---
Do You Have a Great Tip About Car Cleaning or Detailing?
Do you have a great tip about car cleaning, washing, detailing or carpet cleaning? If so, share it!
---
Click the lavender bar on the left and subscribe to the RSS feed to be notified of new listings as they become available.

---
Did you like this?  Please share it! Thanks in advance.
---
No matter where you are in life (stay-at-home mom, full or part time employee, retired, etc.) you can make a good income with a website.  Whether you write books, make crafts or something else, I highly recommend SBI.  It's the reason for this website.  Check it out below and become another solopreneur!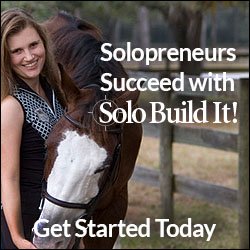 Hello!  This is Shelly Morton, the author of this website. I know you hear a lot of hype about making money from home and building a successful website.  I speak from experience as a solopreneur, I have succeeded with Solo Build It! There is simply no better way to build an online business.  Nothing else compares.  It's not a "get rich quick" scheme.  SBI provides you with all the tools and tips you need to be successful.  You put in the work and SBI will help you succeed!  SBI is simply the BEST way to get started for any "solopreneur."

---
Return to top of Car Wash