Helpful declutter articles on problems related to organizing
Loading

The declutter articles below are provided to give you some general information on these topics. These articles are not intended as counsel or advice but, hopefully, will provide you with some valuable information.
Many people experience problems that appear to be simple disorganization. However, there may be deeper issues involved.
This information is simply overviews of specific problems: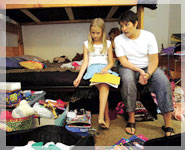 Please realize that I am not a psychologist, psychiatrist, therapist, health care or mental health professional!
Nothing on this websiste should be construed as expert advice. Always seek the counsel of a trained health care or mental health professional before doing anything (now we've made the lawyers happy)!
For information on how to begin organizing, click on Start Here
You will also find links on this page to other articles you may find useful. Enjoy!
---
Organizing Articles
---
(Return to Top of this Page..Declutter Articles)
Home|About Me|Site Map|Contact Me|What's New?|
---
Hi, this is Shelly Morton..the author of this website. I know you hear a lot about how to build an online business, but nothing compares to what you will see when you click the box below. Simply the best way to break the 9-5 routine!