CAUSES OF STRESS
Loading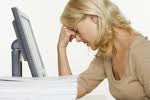 Causes of Stress
Do you feel stressed? Who doesn't from time to time? It's only when stress is prolonged that it becomes a problem.
What is stress?
The best definition I could find in a medical journal (that was in ordinary English) was:
". . . a normal physical response to events that make you feel threatened or upset your balance in some way. When you sense danger, whether real or imagined, the body's defenses kick into high gear in an automatic process known as the 'fight-or-flight' reaction, also known as the stress response."
What does stress do?
"The stress response is the body's way of protecting you. When working properly, it helps you stay focused, energetic and alert. In emergency situations, stress can save your life by giving you extra strength to defend yourself."
That seems great; however, beyond a certain point, stress stops being helpful and actually becomes harmful to the body. Your body was not designed to be under the "stress response" for long periods of time.
---

Causes of Stress (Harmful): Under prolonged stress, many health problems can result or become worse, such as:
Pain
Depression
Heart Disease
Obesity
Digestive Problems
Autoimmune Disease
Sleep Disorders
Skin conditions (such as eczema)
Why does this happen?
The medical information I read stated that your body cannot tell the difference between a physical danger (such as being chased by a lion) and psychological threats (such as your boss threatening to fire you if you don't work overtime to complete a project). Your brain sends out the same chemicals in the same strengths for each perceived "threat."
Studies on Stress – Causes of Stress: In 1967, Thomas H. Holmes and Richard H. Rahe, from the University of Washington, did a study on the connection between significant life events and illness. As a part of that study, they compiled a chart of the major causes of stress. The 1967 chart listed 43 causes of stress in 1967. In 2006, the chart was updated to include 55 causes!
---

Causes of Stress (Top 10 Life Events): Most surveys list these as the "Top Ten"
Death of a spouse or child
Divorce
Marriage separation
Jail term
Death of a close relative
Injury or illness
Marriage
Being fired from employment
Marriage reconciliation
Retirement
---
What else causes stress?
An article in Relaxnews/ Monday, 7 February 2011 noted that a messy environment can also be a cause of stress:
"The results of a survey released on February 3 suggest that the saying 'tidy house, tidy mind' could be true, with the majority of respondents in the United States feeling stressed or anxious about the amount of clutter in their houses.
The survey conducted across the country by Russell Research on behalf of online personal organizing site Rubbermaid found that 91 percent of respondents are 'overwhelmed' by the untidiness of their house, 57 percent say a disorderly house is a cause of stress, 42 percent say it makes them feel more anxious and slightly under half of all respondents claim they 'won't invite friends over' to see their home when they feel it is 'cluttered.'
Mothers in particular found a disorganized house a source of anxiety with 60 percent claiming it made them feel stressed and 29 percent citing children as 'the top barrier to de-cluttering their home.'
However the opposite was found to be true when homes were deemed 'orderly,' with the majority of respondents claiming "an organized home" reduced their stress levels."
---
Does Mess = Stress?
For me, the answer is "Yes;" however, apparently not everyone feels this way. I have known people who don't seem to mind mess at all. They simply refuse to feel stressed by mess!
It's inconceivable to me how people don't seem to mind rummaging around in stacks of stuff looking for things. It doesn't bother them at all that they waste huge amounts of time or constantly run late. They tell me "I'm too uptight" and "need to relax" or "just chill."
What about you? Take our Mess = Stress Survey. Results will be published within the next few months.
The survey asks for your email; however, it does not get stored and you will not get spammed if you participate (I hate spam and I wouldn't do that to you). So, please participate!
---
So, what's the point to all of this?
A good place to start reducing your stress levels is to take control of something you have control over. Your home environment is a good place to start. A clean, orderly home will help reduce your stress levels and give you a peaceful environment to "de-stress."
Use the Start Herepage (and other pages) on this website to help you with that messy house. If you need the help of a professional organizer, check out our Directory pages (listed by state/city) to get the extra help.
An organized home will help you reduce at least one of the causes of stress!
---
---
What causes you stress?
What stresses do you have in your life? How do you manage stress? Share your stress-busting tips with others!
Return to top of Causes of Stress
Home|About Me|Site Map|Contact Me|What's New?|
---
Hi, this is Shelly Morton..the author of this website. I know you hear a lot about how to build an online business, but nothing compares to what you will see when you click the box below. Simply the best way to break the 9-5 routine!