Just in case you want to know a little more about me. . .
Loading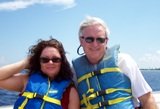 Well . . . just in case you do want to know a little more about me. . .
I hate talking about myself, but I felt that you (my readers) deserve to know a little information about me. In other words, you deserve to know if I know what I'm talking about and not just talking for the sake of talking! So . . . I created this page.
Here goes . . .
---

My Background
I'm still working full-time in Corporate America and have 35 years of organizing experience in corporate management and the legal field.
In previous years, I assisted my church family with organizing functions on a part-time basis and also worked full-time while attending classes part-time to earn my degree (in addition to taking care of my family).
Organizing has always come easy to me. It's a joy, not a chore. Since I love organizing and helping people, this website seemed to be the perfect blend -- I hope you agree. I truly love making things simpler and easier for people so they can spend time on more important things (family, friends, hobbies, etc.)
---

Getting Personal
If you'd like to know more, here's a little information about me, my family and my other interests. . .
Although not a native Texan, I got here as quick as I could. I've lived in Texas most of my life and L-O-V-E the Lone Star State! There is so much to enjoy here.
I'm married and enjoy spending time with my husband, my daughter, my step (bonus) daughter and my three wonderful grandchildren plus my great granddaughter.
For hobbies . . . I enjoy ballroom dancing (yes just like on Dancing With The Stars)! I just wish I hadn't waited until I turned 50 before I started learning it!!
When I can find the time, I also enjoy playing tennis and doing artwork (sketching, painting, etc.) I am also a published Christian author (try my book here in the right column).
---
Is That Really Me?
As for the picture above . . .
Yes . . . that really is me and my husband, Larry (we were married January, 2008). This picture was taken of us in 2006. We are just about to go para-sailing in Grand Caymen!
---

What's down the road?
My hope is that you will find a great deal of valuable information on this site so that you will feel comfortable recommending it to your friends, family (and anyone else you know).
I would consider it an honor if you bookmarked this site and checked back often. I am continually adding new pages to it and hope the information is valuable. If you don't want to miss anything, sign up (free) for the RSS feed (see lavender box to the left).
If you have a question, comment or suggestion. Or . . . if you need further information about organizing, and can't seem to find it anywhere, feel to Contact Me. I'm here to help you!
And that is enough about me . . . but I'd love to hear from you!!
Toodles!
---
Home|About Me|Site Map|Contact Me|What's New?|
---
Hi, this is Shelly Morton..the author of this website. I know you hear a lot about how to build an online business, but nothing compares to what you will see when you click the box below. Simply the best way to break the 9-5 routine!