HOW TO ORGANIZE
A CLOSET and CLOTHES

How to Organize a Closet:  Are you afraid to open your clothes closet because you may get hit in the head with an avalanche?

I understand, no worries!  The How to Organize a Closet tips on this page is here to help you!!

I have always enjoyed figuring out how to make things better and more efficient.  Closets are a great place to begin to get a handle on your home organization.
If you clean, organize and maximize the closet space you have, you might have room to put away more items in the closet and thereby make the other areas of your home more organized as well.

This article focuses specifically on how to organize a closet for clothing.  It is not addressing any other closet topics.  If you like to find out more about Closet Organizer materials, click the link.
---
How to Organize a Closet
General Information
Before you begin, take time to get the following items ready:

Schedule several hours of un-interrupted time (or 1-2 days depending on the size of your closet and the amount of clothing you need to deal with.

Get at least 4 large trash bags or boxes. Label them Trash, Repair, Donate, and Keep. You can print the handy labels under the Free Stuff section of this website.

Have on hand a vacuum cleaner, a dust cloth or duster, preferably with a telescoping handle, and a step ladder.

Play some music.  It will make the job easier and increase your energy and motivation!
Now you're ready to begin the 11-step process below.
---
How to Organize a Closet
Step #1
Remove all clothes and shoes and anything else stored in the closet.
If you're sure you will be finished in one day, go ahead and pile them on your bed.
However, if you won't be done before bedtime, or you're not sure, put them on a table, a sheet on the floor, the bed in the guest room or other location.
This will prevent you from having to move the items off your bed at the end of the day when you're tired and ready to get some much-needed rest.
Now that the closet's empty, vacuum the floor and baseboards. Dust the rods and get rid of any dust-bunnies!
If your closet could use a fresh coat of paint, do that now as well.
---
How to Organize a Closet
Step #2
Examine each item carefully.  Take notes.
Is it dirty?
Does it have rips or tears?
Are the zippers working?
Are there one or more buttons missing?
When was the last time you wore it?
Are the shoes the correct size; the size you currently wear, not the size you were or want to be?
---

How to Organize a Closet
Step #3
Place each item in one of the four bags or boxes you set aside in the General Information section above.
If you haven't worn the item in 6 months or more, don't keep it!! Donate it! Let someone else benefit from it.
Unless you absolutely love it and it's been MIA, you probably won't wear it anyway.
The same idea goes for items that are too large or too small. Place them in the Donate pile.
If the items are ripped, torn, stained and un-wearable, place them in the Trash pile.
For items that are the correct size (the size you are currently wear, not the size you used to be or want to be again), and need simple mending, such as buttons replaced, etc., place them in the Repair pile.
The rest of the items can go into the Keep pile.
Sort your shoes into one area.
Sort purses into another area.
Sort accessories such as scarves, belts, hats, etc., into another area.
---
How to Organize a Closet
Step #4
Put the Trash immediately in your trashcan to be picked up.
 Take the Donate items out immediately before proceeding.
Once that is done, I recommend going through the Keep pile a second or third time.  Re-assess every item again.
We often get emotionally attached to clothes and keep many things that we will never, ever wear especially if someone we love gave it to us. Keep the memory but ditch the clothing!
Don't get into the: "I'm going to get back to a Size 6 and wear that again" mentality.
While you might get back into a Size 6, if you work at it, the reality for all of us is, we probably won't.
If you do, consider the fact that purchasing something new in a Size 6 is your reward for all that hard work!!
---
How to Organize a Closet
Step #5
Deal with the Repair items now.
Don't wait as this will only prolong the process.
If you're not good with a needle and thread, ask someone you know who sews to take care of these items for you.
Alternatively, take it to a dry cleaner as they usually have someone who sews and/or repairs clothing.
Deliver these items to get them taken care of before you proceed.
If you wait, it may not get done.
---
How to Organize a Closet
Step #6

Categorize the Keep items.
Now that you've pared them down, it's time to decide how you want to store what you've kept.
The main two divisions of clothing are seasonal:  Spring/Summer and Fall/Winter.
Separate your Keep clothing into these two categories.
If possible, it's best to store your off-season clothing in a separate closet.
If space is limited, consider using an under the bed storage container or an off-season storage bag.
You can also check with your dry cleaners as they often provide storage service for those with limited space.

---
How to Organize a Closet
Step #7
Create a system that works for you to organize your clothing.
Here are some ideas that various people use to organize their clothing:
            * Occasion: Formal, Work, Causal, Sport.
            * Type: Dresses, Pants, Blouses, Sweaters.
            * Color: Put all items of the same color together.
You can even combine these types to create a more specialized system: sort by Occasion then, sort by Type then, sort by Color.
You can even sort blouses into short sleeve and long sleeve combinations.
Use something that is simple, easy and makes sense to you.
It's YOUR closet; it doesn't have to look like a magazine!
---

How to Organize a Closet
Step #8
Assess your closet storage space requirements.
Look at the closet space you have.
Is it wide, narrow, tall?
Do you have a high ceiling?
Do you have room for hanging shoe storage or space for floor or shelving units? Each closet space is different.
You also need to determine what types of items you will be storing.
Do you have more dresses than separates?  If so, you will need longer storage areas to accommodate dresses than if you were storing pants, blouses, skirts, etc.
Depending on the space you have, you may wish to purchase some additional storage items such as:
            * Over the door hangers and shoe storage hangers, or
           *  Additional rods, hooks, bins, baskets.
Some places such as Home Depot, Lowes, Container Store, etc., carry specialty closet shelving items.  They have people on staff that can help you decide what works best for you.

Consider under the bed storage containers and/or bed risers to lift your bed high enough to place additional storage in this space.
Look at the door/opening to your closet. Is it a single door or double? Doors can hinder storage space.
You can perform a little carpentry magic to amend the door.
A simple alternative would be to remove the door and replace it with an adjustable rod and pretty curtain. 
If your closet has a high ceiling or a ceiling with a slope, it is possible to hang a rod high up (2 or 3 inches from the ceiling).
This is a good place to hang off-season clothes or items that are worn only occasionally such as for holidays and other special occasions (weddings).
---
How to Organize a Closet
Step #9
Take time now to measure your closet.
Proceed to purchase what you need to store your Keep items.
If you seek the help of a closet storage specialist as mentioned above, realize that it might take extra time to acquire and install the system.
Make allowances for this and keep your clothing out of your closet (if possible) until the installation is complete.
This will save time and energy from putting the clothing up and taking them out again.
---

How to Organize a Closet
Step #10
Before installing your new organizers and putting up your Keep items, consider decorating your closet.
Paint and wallpaper can make your closet look and feel like a designer boutique!
You can hang some great smelling sachets to make your closet smell as great as it looks.
---
How to Organize a Closet
Step #11
Put up the Keep Items.
It's now time to put back the clothing and accessories back in the closet using all the wonderful organizing items your purchased.
Take advantage of every shelf, hook, nook and cranny!
Step back and enjoy the view.
Next time you feel like spending money shopping for new clothes, take a minute to assess what you have in your very own personal Boutique.
You may decide to save the money for a vacation instead!
---

Have A Great Tip on Closet Organizing?
Do you have a great tip about closet organizing? Share it!
---
Click the lavender bar on the left and subscribe to the RSS feed to be notified of new listings as they become available.

---
Did you like this?  Please share it! Thanks in advance.
---
No matter where you are in life (stay-at-home mom, full or part time employee, retired, etc.) you can make a good income with a website.  Whether you write books, make crafts or something else, I highly recommend SBI.  It's the reason for this website.  Check it out below and become another solopreneur!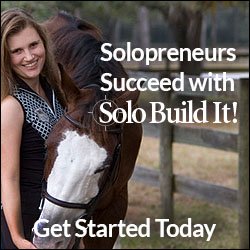 Hello!  This is Shelly Morton, the author of this website. I know you hear a lot of hype about making money from home and building a successful website.  I speak from experience as a solopreneur, I have succeeded with Solo Build It! There is simply no better way to build an online business.  Nothing else compares.  It's not a "get rich quick" scheme.  SBI provides you with all the tools and tips you need to be successful.  You put in the work and SBI will help you succeed!  SBI is simply the BEST way to get started for any "solopreneur."

---
Return to Top of How to Organize a Closet
Home|About Me|Site Map|Contact Me|What's New?|