Learn to Use a Gift Wrap Organizer
Loading
Loading
Why a Gift Wrap Organizer?
Birthdays, baby showers, weddings, anniversaries, Christmas . . .
Celebrations usually involve gifts and gifts involve gift wrap of various types!
Do you find yourself digging through a pile of paper searching for the right type of wrapping paper? Do you have a mangled mess of bows? Is tissue taking over? What to do?
Consider these clever tools for organizing and storing your gift wrap. Your bags, boxes, bows, paper, cards, etc. will be neat, easily accessible and ready to use for that next special occasion!
---
Under Bed or Over-the-Door Gift Wrap Organizer
If space to store gift wrap is limited, a see through box that fits under the bed is great for storing gift wrap. You could also purchase an over-the-door gift wrap organizer and hang it up out of sight. Everything will be neat, tidy and handy the next time you need to use it.
Purchase more than one and store your gift wrap, bags, tags, tissue, and bows by type (Christmas with Christmas, Wedding with Wedding, etc.) -- You get the idea!
Save time -- Purchase extra scissors, pens/markers and tape. Store them inside the box -- you won't have to go looking for them when it comes time to wrap that next gift item.
When shopping, keep an eye out for special gift cards and store them in the gift wrap box as well. The next time you have a birthday, wedding, anniversary, etc. you will most likely have everything you need on hand.
Keep a list of what you have on hand and check your list before shopping. That way, you won't purchase duplicates and create more clutter. Your budget will be blessed as well!
---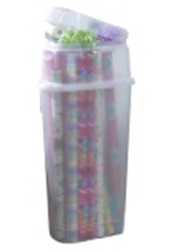 Upright Gift Wrap Organizers
These upright organizers are great for those with closet space. The storage containers will hold several rolls of wrapping paper, bows, bags and tissues. It's a great alternative to the under the bed storage.
---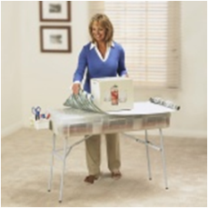 High End Gift Wrap Organizer
Although expensive, this item is more than just a place for sorting and storing wrapping paper. It is actually a work station as well.
The container portion holds up to 36 rolls of wrapping paper (depending on the size of the roll), as well as bows, bags, gift tags, tape, scissors, and other necessities.
The container has metal legs that unfold. This creates a work table or work station. Clips hold the wrapping paper in place. Grid lines on the top assist in cutting straight lines. A side caddy holds all the tape, scissors, rolls of ribbon, etc. for easy accessibility.
The lid has a small storage compartment that will hold a small amount of flat items such as tissue paper and gift bags.
This work station can also serve as a handy craft table for photos, scrap booking, paper crafting, etc.
Utilizing these items help with organizing gift wrap to make your job easier, more enjoyable and saves your valuable time as well!
---
Do You Have a Gift Wrap Organizer to Recommend?
One of the great things about the internet is the ability for everyone to benefit from the knowledge and wisdom of others. So . . .

If you know of a gift wrap organizer to recommend, just type in the information below. After all, 'tis the season to be sharing!
---
HOLIDAYS
Return to top of Gift Wrap Organizer
Home|About Me|Site Map|Contact Me|What's New?|
---
Hi, this is Shelly Morton..the author of this website. I know you hear a lot about how to build an online business, but nothing compares to what you will see when you click the box below. Simply the best way to break the 9-5 routine!