Halloween Safety Tips
Loading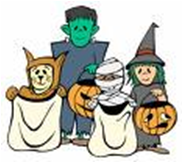 Halloween Safety is an important topic. In addition to safety tips, I've included some information on the history of the holiday as well.
My daughter (and now my grand daughter)ask me where the term "Halloween" came from. In case you'd like to know, here's some history and general information.
---

Halloween History & General Information
November 1st is the Christian celebration of All Souls Day. This worship service was started by the Church to remember all the departed faithful who did not have a special day set aside specifically to remember them.
The worship service held on the night before (October 31st) was called All Hallows Eve. These words were eventually strung together to be called Halloween.
Most cultures set aside a day to remember those who have gone on before us. Samhain ("SOW-in") is an old Celtic term for this remembrance. The Romans had a celebration called the Festival of Feralia to honor their dead. In Mexico, it's called El Dia de los Muertos (Day of the Dead) and also is celebrated on October 31.
Now you know!
---
Halloween Safety Tips for Kids
Halloween safety is an important topic. Halloween can be a time of great fun for parents and children alike if celebrated properly and safely.
For various reasons, some parents choose not to let their children participate in Halloween. If you choose to let your children participate, here are some excellent Halloween safety tips to keep them safe.
Curb Your Excitement Children can get very excited -- costumes, candy, etc. Excitement causes distraction. Be responsible and extra careful during this time. Curb your own excitement. Be watchful and vigilant.

Remember the 3 "C's": Casualness Causes Casualties! Use your common sense. This can help you and your children avoid tragedies during the holidays ahead.

Costume Check Help your child pick out his/her costume. Whether it's specially made or purchased, it should: (a) Be made of flame retardant material, (b) Have eye holes large enough not to obstruct peripheral vision.
Jack-O-Lanterns If you use jack-o-lanterns with candles inside as part of your holiday display, place them far from the door. You won't set costumes on fire. There are battery operated pumpkin lights that flicker. Consider using these instead. Go to: pumpkin lights for more information.
Props Make sure any prop your child carries (pitchfork, sword, etc.) has a smooth surface and flexible tip -- no one will get injured if it's dropped or fallen on.
Pumpkin Carving Don't allow children to use sharp knives. Do the major cutting yourself. Purchase a pumpkin carving kit. These come with small plastic saws that are safer than knives (but they can still cut little fingers).

Be careful and supervise their work. Let the smaller children draw the faces and clean out the inside of pumpkins.

You can decorate pumpkins without carving as well. Try painting a pumpkin or use Mr. Potato head pieces as an alternative to carving.

Eat Before You Treat Feed you children a good meal before Trick-Or-Treating. They need the nutrition and are less likely to "pig out" on sweets later.
Basic Safety Talk Use this time to talk about general safety, not just Halloween safety. Reinforce basic safety tips such as: (a) Don't get into cars with strangers, (b) Not talking to strangers, (c) Looking both ways before crossing streets, (d) Be aware of what (and who) is around you, (e) Obeying traffic rules and (f) For older kids . . . don't talk on your cell phone while driving (parents take note as well).
Check It Out Always check the treats, especially ones given by people you don't know well. Alas the days of popcorn balls and caramel apples are gone! Accept only wrapped candy.
Make Halloween safety a priority. Have a fun, safe and happy time with your kids and they'll carry on the tradition that you taught them to their own families some day!
---
HOLIDAYS
Return to top of Halloween Safety
Home|About Me|Site Map|Contact Me|What's New?|
---
Hi, this is Shelly Morton..the author of this website. I know you hear a lot about how to build an online business, but nothing compares to what you will see when you click the box below. Simply the best way to break the 9-5 routine!