Ornament Storage, Holiday Lights & Wreath Storage
Ornament Storage
Organize Christmas Decorations
Ornament Storage: I happen to be one of those people who dearly loves decorating for holidays. Every life is blessed with only so many holidays. Therefore, in my humble opinion, celebrating each holiday is a necessary part of celebrating the life Iyou have been given.

Christmas is the holiday I love to decorate for the most. Can you relate? No? Well, is it's because your decorations are a mess? Do you dread getting out those boxes with tangled lights and broken ornaments?
Organizing Christmas decorations this year will ensure that next year you can spend less time untangling strings of holiday lights and spend more time enjoying the season.
Think about what happened last year. If you're like most people, once the holiday was over exhaustion set in. You took the decorations down quickly, stuffed them in one or more boxes and stashed them away so life could get back to normal as soon as possible. Am I right?
Let's change that, okay? Are you in doubt about what to do or where to begin? Rejoice!  You've found the right page of this website!
All organizing projects involve sorting before you can organize. Not sure what I'm talking about? You may want to take a moment and check out the information under the start here section before you begin.
Ready?
---
Steps to Learn About
Ornament Storage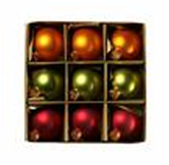 Here are the steps to get started with organizing your ornaments:
Start early.
Don't wait until the holiday rush is upon you to begin.
Don't wait until after the holidays are over (you'll be exhausted and just throw them back in the box they came out of). That's not progress!
Pick a time several weeks prior to Christmas to purchase what you need to store your Christmas decorations: ornament storage boxes, artificial tree storage bag, wreath keeper, holiday lights storage, etc.
Pull out all your existing decorations.
Make 3 piles: Keep, Donate, Trash.
Take out your decorations and sort through them. Check the Baby Steps and Basic Principles sections for more information on sorting.
Put each decoration into one of those 3 piles. Untangle those lights and test them. If bulbs are broken, replace them now. Consider purchasing a new set if there are any problems with the wiring. Be safe!
Immediately take the Trash items to your outside trash can and don't bring any of it back in. Curb your "Chunker's Remorse" (a/k/a "I wish I didn't throw/give that away").
Box or bag up your Donate items and immediately take them to a donation station (Goodwill, Salvation Army, Resale, etc.). If they are in decent condition, consider giving them to a senior citizen who may need to brighten their nursing home room or assisted living apartment.
Begin organizing your Keepers with the recommended products below.
Once your task is done, put your neatly stored decorations away until the first day of Advent.
---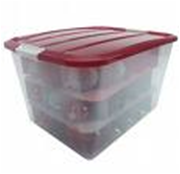 Ornament Storage Boxes
I wish ornament storage boxes were around years ago. It would have made my life a LOT easier. However, you get the advantage of using them today!

There are many types of ornament storage to choose from, but my favorite is made by Iris. It is a clear plastic storage tub with dividers. The large variety holds up to 84 ornaments and the clear plastic sides allow you to see what's in the container.
Put your ornaments away in an organized fashion. Put like things together (colors, sizes, themes), etc. This will help you locate and decorate more quickly. For extra protection for your blown glass ornaments, purchase a box of China wrapping paper at a moving and storage company and wrap your ornaments individually, then label the package so you'll know what's inside.
---
Artificial Tree Storage Bag
If you use a real Christmas tree, this obviously doesn't apply to you. But, at the end of this holiday season, please consider donating your old tree to a recycling company that chops up used Christmas trees for mulch. Let's keep these trees out of the garbage piles!

If you do have an artificial tree, don't try to stuff your tree back into the box it came out of. I tried that for years (with much frustration and electrical tape). Believe me, an artificial tree bag is much better!!
Once your tree is all zipped up, tuck it away in a safe place for use during the next Christmas holiday season!

---
Wreath Keeper
Holiday wreaths look beautiful. Whether you use them inside/outside or both, keep them fresh and looking great from year to year by placing them in a wreath keeper when the holiday is past.

I personally prefer utilizing one that is clear hard plastic. It allows me to see which wreath is inside. Lately, these have been hard to come by, but there are other varieties to consider.
If the wreath keeper you use does not allow you to see which wreath is inside, be sure to label the outside of the keeper to see-at-a-glance which wreath to choose.
This applies not only to Christmas wreaths, but to any wreath you may use seasonally throughout the year.
---
Holiday Light Storage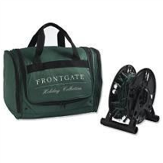 Don't just throw your holiday lights in the bottom of the box or roll them into a ball. You'll spend hours untangling them next year. Consider purchasing one of these handy holiday light storage keepers. Be sure to keep the plug on the outside where you can easily test the light string without unwrapping or unrolling the entire set!

Purchasing and using the appropriate storage for your lights this year will reduce next year's holiday stress!
---
Taking a little time up front now to complete your ornament storage will help you enjoy the holiday season with less stress this year as well as the years to come.
Have a blessed and joyous Christmas!
---
Do You Know of a Great Ornament Storage Tip or Product?
Do you know of a great ornament storage tip or product recommendation? Share it!
---
Links to Other Information
---
Click the lavender bar on the left and subscribe to the RSS feed to be notified of new listings as they become available.

---
Did you like this?  Please share it! Thanks in advance.
---
No matter where you are in life (stay-at-home mom, full or part time employee, retired, etc.) you can make a good income with a website.  Whether you write books, make crafts or something else, I highly recommend SBI.  It's the reason for this website.  Check it out below and become another solopreneur!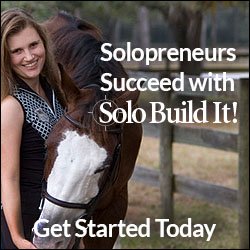 Hello!  This is Shelly Morton, the author of this website. I know you hear a lot of hype about making money from home and building a successful website.  I speak from experience as a solopreneur, I have succeeded with Solo Build It! There is simply no better way to build an online business.  Nothing else compares.  It's not a "get rich quick" scheme.  SBI provides you with all the tools and tips you need to be successful.  You put in the work and SBI will help you succeed!  SBI is simply the BEST way to get started for any "solopreneur."

---
Return to top of Ornament Storage