Last Things to Consider Before You Begin!
Loading
Here are some last things to consider . . . You've come a long way baby!

I'm providing this as a quick review of the home organizing tips you've learned before you head out to the home organizing solutions project areas:
Last things . . .
A short summary of the home organizing tips and solutions from prior pages under Start-Here:
---

Tips from Start-Here:
Time is a limited commodity.
You only have so much time . . . make it count!
Organizing is an organic" process.
Gain an organized mindset.
---

Tips from Organized Mindset:
Your subconscious mind only knows one word --"OK".
Stop telling yourself you're an unorganized person.
Stop telling yourself it doesn't matter if you're disorganized.
Stop telling yourself you don't have time to get organized.
Stop telling yourself: I don't feel like it; I'm tired; It's not fun.
---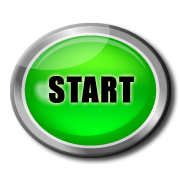 Tips from Start Somewhere:
Pick your one thing
Research how to do your one thing
List the steps to accomplish your one thing
List and purchase anything you need before you begin
Don't try to do everything at once.
---

Tips from Baby Steps:
Stop buying stuff
Become an avid List-Maker
Turn off the advertising
Become a Pile Sorter: Trash, Donate, Consign/Garage Sale/Ebay, Repair, Doesn't belong here, Keep the Keepers
Get rid of emotional baggage
Beware of Chunker's Remorse
---
Tips from Basic Principles:
Does this add real value to my life?
When was the last time I've seen it or used it?
Do I have duplicates of this item?
Does it need to be repaired?
Is this junk or could someone else use it?
I'm keeping it . . . where does it belong?
Could this item be repurposed?
---

Tips from Other Things to Consider:
Determine who will most likely use the item . . . include them in the choices.
Determine the level of detail you need to find it again. Don't go into too much detail.
Keep like things together.
Determine how you want to find the item next time you look for it.
Use a labeler.
Search for How To information to help you.
If it's expired, it's dead --- give it a decent burial!
Keep clutter under control by doing small things routinely.
Perform a clutter sweep before bedtime --- get everyone to pitch in.
Choose regular times for daily chores.
Don't procrastinate.
Having a really hard time? Consider there may be deeper issues, such as Hoarding Disorder.
---

That's about as short and simple as I can make it! I hope these home organizing solutions were helpful.
I also hope you felt this page on Last Things to Consider was useful as a handy reference.
Now that you can handle the A/B/C's . . . feel free to check out the project areas, articles and other helpful home organizing solutions and information.
If you missed a step or something doesn't sound familiar, click one of the helpful links below and refer back to the page and review. You might want to bookmark an especially helpful page for reference.
Last things are usually never last, but you can now start your engines and get started with your favorite project!
And that's the last things I'm going to say about it! Toodles!
---


Go to: Step #1: Start Here

Go to Step #2: Organized Mindset

Go to Step #3: Questions to Ask Yourself

Go to Step #4: Start Somewhere

Go to Step #5: Baby Steps

Go to Step #6: Basic Principles

Go to Step #7: Other Things to Consider

Go to Step #8: Last Things to Consider


Home|About Me|Site Map|Contact Me|What's New?|
---
Hi, this is Shelly Morton..the author of this website. I know you hear a lot about how to build an online business, but nothing compares to what you will see when you click the box below. Simply the best way to break the 9-5 routine!