Pots Storage

 Organizing & Storage Solutions

Pots storage: Few of us feel we have enough kitchen cabinet space to adequately store our pots, pans and kitchen gadgets.
As stated on organizing a kitchen, a cluttered kitchen kills the desire to cook so you eat out more (and spend more money).
Let's face it, if cooking feels like a hassle because you can't find your pots, pans and kitchen tools, you simply won't use them.
Organizing pots and pans is really quite simple. It is also one of the easiest and least expensive organizing tasks. Getting your pots and pans under control will give you a sense of accomplishment!
---
Steps for Organizing
Pots & Pans

If you're familiar with the basic principles or organizing, then here are the steps regarding how to go about organizing those pots and pans:

Empty the cabinets: Take everything out of your cabinets. If you have pots and pans stashed in another room, boxed in the garage or other area, bring them out and put them with the others.
Choose: Decide ahead of time what pots and pans you really need and use on a regular basis.
Sort: Make yourself 3 notes Trash, Donate, Keep. You can find printable pages for these on the Free Stuff page.  Get 3 boxes and label each box with one of the notes. Go through all the pots and pans. Determine which ones are the real Keepers. Throw away any that are severely burned, scratched or dented. Also trash any Teflon pans that have nicks or are peeling. Better yet, get rid of all Teflon pans as they have been associated with various health risks.
Donate: Put your least favorite and least used but still good and useable in the Donate pile.
Keep Essentials: Keep at least 2 sizes of frying pans and pots, one large and one small each. I suggest keeping only 3 of each type of pan unless you're a professional chef or have a large family.
Purchase: If possible, purchase ahead of time some items that will help you store the pots and pans you wish to keep. These items will help you store and reach your pots and pans easily. You'll be more likely to use what you have.
Store: Return the Keepers to your cabinets. Use the handy storage tools you purchased or made. Dedicate one particular area for the odd shaped pans such as cookie sheets, muffin pans, etc. Start by storing the larger flat items, like baking sheets, on the bottom. Put the smaller ones on top.
Toss: Toss the bad pans in the Trash.
Donate: Donate the useable pots and pans.
---
Pots Storage
Creative Ideas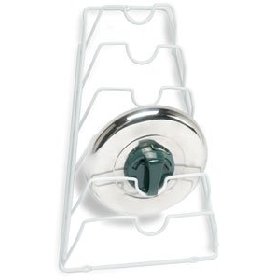 Pots and pans are large items. They can take up a good bit of your storage space. If organized and stored properly, they can be accessed easily and conveniently.

Consider these creative pots storage ideas:
Overhead Pot Racks: You can buy (or build if you're the handy type) an over-head pot rack. This system works well if you have plenty of ceiling height and little cupboard and/or counter space. It will keep your pots handy. It will also make you look like a professional chef!
Shelving: Kitchen utility shelves is another great alternative. Many people simply forget to utilize their wall space. You can buy (or build) easy shelving to store pots and pans within easy reach.
Hook Up: Hooks can be added to pegboard racks or underneath your wall shelving. This is another great alternative to an expensive overhead pot rack and gives you instant access to your pots.
Stack 'Em: Most of the newer pots and pans come in groups that stack inside each other. By storing them in this way, it reduces the amount of cabinet space taken up.
Lids: I store my pots with the lids together. If your space does not permit, consider purchasing a lid rack. You can store all the lids in one spot upright.
Sliders: Many newer kitchens are putting these into their kitchen cabinetry. If you weren't fortunate enough to have these custom installed in your home, you can, with a few simple tools, install after market slide out drawers. It's a great way to save your back.  No more sitting on the floor digging to the back of the cabinet!
Put It Where You Use It: Putting pots and pans near the stove is usually best. It's always a good principle of organizing to put things where they will be used. Cabinets above or below the stove and oven are the best places for pots and pans.
---
Pots Storage
Keeping It Clean
The last item on our agenda is keeping it clean. Now that you've worked hard to get your pots and pans in order, let's keep it that way!
Food residue will ruin your pots and pans. It's also a health hazard.
Don't soak pots and pans too long as water can ruin many finishes and cause handles to become loose.
Make sure to check the manufacturer's instructions regarding the types of utensils to use on your pots and pans.
Also check the manufacturer's instructions for type of sponges/scrubbers, etc. to use when cleaning.
You don't want to ruin the finish of your non-stick pans if you insist on keeping them.
I hope you found the information on pots storage useful!
---
Do You Have a Great Pot Storage Tip?
Do you have a great pot storage tip? Share it!
---
Links to Other Information
Go to: Cooking & Measurements Equivalents

Go to: Kitchen Cleaning

Go to: Kitchen Countertops

Go to: Kitchen Appliance Storage Ideas

Go to: Kitchen Drawer Organizer
Go to: Kitchen Safety Tips
Go to: Kitchen Tips
Go to: Organizing a Kitchen
Go to: Pots & Pans Storage

---
Click the lavender bar on the left and subscribe to the RSS feed to be notified of new listings as they become available.

---
Did you like this?  Please share it! Thanks in advance.
---
No matter where you are in life (stay-at-home mom, full or part time employee, retired, etc.) you can make a good income with a website.  Whether you write books, make crafts or something else, I highly recommend SBI.  It's the reason for this website.  Check it out below and become another solopreneur!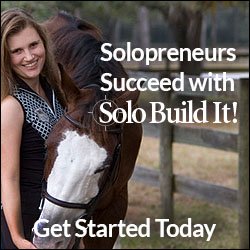 Hello!  This is Shelly Morton, the author of this website. I know you hear a lot of hype about making money from home and building a successful website.  I speak from experience as a solopreneur, I have succeeded with Solo Build It! There is simply no better way to build an online business.  Nothing else compares.  It's not a "get rich quick" scheme.  SBI provides you with all the tools and tips you need to be successful.  You put in the work and SBI will help you succeed!  SBI is simply the BEST way to get started for any "solopreneur."

---
Return to top of Pots Storage