COUNTER CLUTTER
12 Great Clutter Buster Tricks!
Do you have counter clutter?  No worries!  At some time or other, everyone has it.

Kitchen counter space is always at a premium. Whether it's a tiny garage apartment or a multi-million-dollar mansion, there never seems to be enough of it.
What to do? This page will provide you with general information as well as specific suggestions to help you get your counter space back and help you organize your kitchen.
---
Kitchen Counter Clutter:
General Tips
There is always going to be dead or unused space in any kitchen. Good organizing and some cleaver innovation can clear up that counter clutter and give you more room to work. Get creative. Look at your kitchen space with fresh eyes.

Look up as well as down. The most over-looked area is vertical wall space. Under counter storage is often under-utilized as well. Organizing your kitchen drawers can get things in drawers and off your counter tops.
Check the back of the kitchen and/or pantry door for items that can be hung instead of sitting on the counter. Check to see if you have space under the upper kitchen cabinets.
Use every square inch of space you have. Check out the suggestions below to help you get rid of the counter clutter and free up the space you need to work. There are many new products to help you.
---

My 12 Favorite Counter Clutter
Space Organizers
Here are 12 of the best tips, tricks and hints for getting rid of counter clutter:

#1: Create a Message Center: A message center is a centralized place to relay messages, hang schedules or appointment reminders, take notes, have a grocery list on hand, etc. These items often get placed on the counter tops and create counter clutter. Creating a specific place for them will clear up counter space and keep you on track. A cork board, bulletin board, magnetic board and/or chalk board will help. Be sure to include a place for pens and note pads.
---
#2: Kitchen Cart: If space permits, a kitchen island or kitchen cart can assist in storage and get items off your general counter area. If you're lucky enough to have a kitchen island already built in, great! If not, you can either plan one and do some remodeling, or consider purchasing a kitchen cart to serve as an island. You'll get some great extra storage space and clear up your counter clutter.
---
#3: Peg Board: A great way to get things off your counter is to go vertical and hang things on the walls. You can purchase or make a peg board and use hooks to store your favorite pots/pans and kitchen gadgets. Utilize that wall space more effectively, and you'll have more room on your countertop.
---
#4: Door Mounted Racks: Many people are surprised that the back of the kitchen or pantry doors can be utilized to clear up counter space. Door mounted racks can be used to organize everything from cleaning supplies, spices and canned goods to freezer bags, plastic wrap and kitchen towels. Take advantage of this unused or under-utilized space. Make sure to measure not only the height and width of your cabinet, but also the depth to be sure of an accurate fit.
---

#5: Pull Down Under Cabinet Organizers: Space under your upper kitchen cabinets is another area that gets over-looked and under- utilized. A pull-down spice rack can help keep your spices handy as well as off your countertop. It will also help if pantry space is limited. Check out the pictures at the end of this page for more ideas on other things that can be mounted under your kitchen cabinets such as items for knife storage, radio, MP3, TV and DVD players! Be sure you have enough workspace between the item you're mounting and the countertop.
---
#6: Slide Out Storage: Several companies offer a narrow storage rack that fits neatly between the refrigerator and kitchen cabinet. This can be a handy place to store pantry items like canned goods, baking supplies, etc. Be sure to measure the space to be sure the item will fit prior to purchase.
---

#7: Pull Out Wall and Roll Out Organizers: We all tend to put things where they are handy to use. If your kitchen cupboards are deep and things are hard to reach, the tendency is to put them on the counter. Newer more expensive homes are installing pull out or roll out shelves in the kitchen cabinets for easier access to items at the back of the cupboard. If you were not lucky enough to have them custom installed with your home, there are many great after-market products. They are easy to install and are great space savers. Using these pull out and roll out organizers will make you feel better about tucking away those items that are sitting on your kitchen countertop.
---

#8: Over Stove Ceiling or Wall Mounted Pot/Pan Storage: If cabinet space is limited and ceiling height permits, consider using an overhead pot/pan rack. These can be hung over the stove area to free up both counter and cupboard space.
---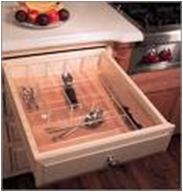 #9: Drawer Organizers: If you prefer storing in drawers and have sufficient room, many companies now offer ways for you to put not only your utensils, but also your cutting board, knife set and spice rack in drawers. This will help you keep them organized and off the kitchen countertop. Check out the article on Kitchen Drawer Organizer for more suggestions on how to organize this area.
---

#10: Appliance Garage or Appliance Caddy: If you have room on your countertop, and don't already have one, consider adding an appliance garage or appliance caddy. It's a great way to store your appliances where you can use them but keep them out of sight. Check out the article on Kitchen Appliances for more information on this area.
---
#11: Pull Out Waste Baskets: I hope you're not storing your trash can on the countertop, but if kitchen cupboard space allows, utilizing a pullout waste basket will tuck this necessary messy item out of sight.
---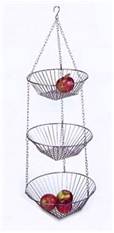 #12: Hanging Baskets: Hang a hook from the ceiling and install a 3-tier hanging basket. They come in wicker, plastic and chrome (and other choices abound). These are great for storing frequently used items (fruit, dish towels, etc.). Be sure to hang them where you won't bump into them.
---
The products listed above are versatile and can accommodate many items that normally resided on your kitchen countertop. Many come in a wide range of sizes, so measure your area carefully.
Every kitchen is different and represents different storage and organizational challenges. Not everyone will need or want every item mentioned. Decide for yourself which would work best for you and the way you work in the kitchen.
There are many creative products out there. If you find something that could benefit others that is not shown here, share it by using the Counter Clutter Tip form below. I will always give you credit for the submission.
Other Ideas
---
Here are some pictures of some great ideas for kitchen space savers to reduce counter clutter.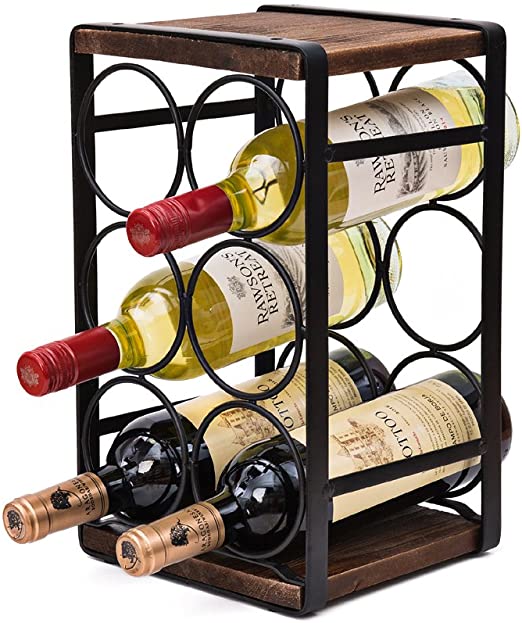 Cute countertop wine rack.
---

Under counter mounted cookbook holder.
---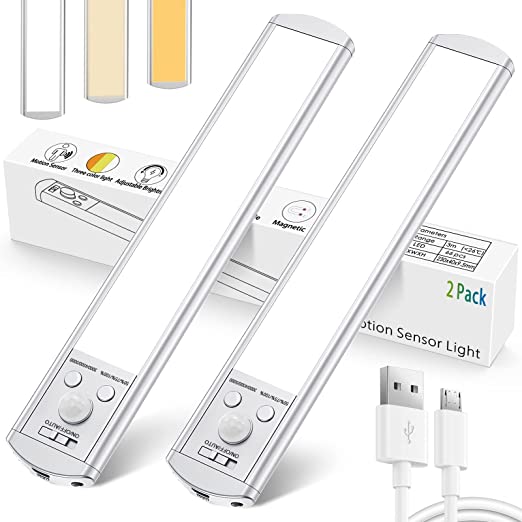 Under counter additional lighting.
---
Do You Know Of A Counter Clutter Tip?
Do you have a counter clutter tip? Share it!
What Other Visitors Have Said
Click below to see contributions from other visitors to this page...

Counter Clutter Tool Not rated yet
I saw on your Counter Clutter page (https://www.straighten-up-now.com/counter-clutter.html). Almost at the bottom of the page, to the right of the text …
---
Here's Some Additional Helpful Info:
Go to: Organizing a Kitchen

Go to: Cooking & Measurements Equivalents

Go to: Kitchen Countertops

Go to: Kitchen Appliance Storage Ideas

Go to: Kitchen Drawer Organizer

Go to: Pots & Pans Storage

---
Click the lavender bar on the left and subscribe to the RSS feed to be notified of new listings as they become available.

---
Did you like this?  Please share it! Thanks in advance.
---
No matter where you are in life (stay-at-home mom, full or part time employee, retired, etc.) you can make a good income with a website.  Whether you write books, make crafts or something else, I highly recommend SBI.  It's the reason for this website.  Check it out below and become another solopreneur!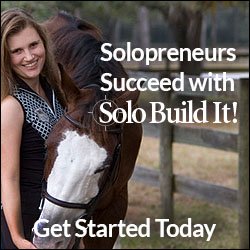 Hello!  This is Shelly Morton, the author of this website. I know you hear a lot of hype about making money from home and building a successful website.  I speak from experience as a solopreneur, I have succeeded with Solo Build It! There is simply no better way to build an online business.  Nothing else compares.  It's not a "get rich quick" scheme.  SBI provides you with all the tools and tips you need to be successful.  You put in the work and SBI will help you succeed!  SBI is simply the BEST way to get started for any "solopreneur."

---
Return to top of Counter Clutter