KID CRAFTS
Taming the Craft Clutter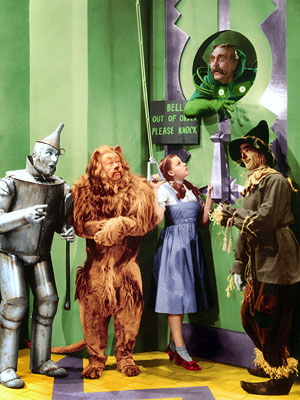 How to Tame the Kid Craft Clutter
Kid Crafts: Crayons and paper and scissors . . . Oh my!

If kid craft clutter is making your house look like Nightmare in Munchkin Land,
If you find your house slippers are covered in ruby red glitter,
If you hope there's no place like your home, then. . .
Perhaps what you need is an organizing Wizard?
Okay, enough of the Wizard of Oz parody!
---
Crafts Are More Than Just Fun

Seriously though, every kid should be encouraged to be creative and enjoy arts and crafts. Childhood imagination is such a wonderful thing. A creative mind is a terrible thing to waste!
Despite the obvious benefits of keeping your kids entertained, childhood development experts agree that there is an actual benefit to children participating in arts and crafts
The benefits include:
muscular development
general health
overall intelligence.
---

The Research Shows. . .
Extensive research has shown that:
Children, who receive art lessons while they are still very young, grow up to be far more creative and imaginative as adults,
Creativity and imagination are essential components for measuring IQ,
In the real world of business there are advantages to having a creative mind.
Creativity allows for innovation, something that is highly valued in the business world today.
For businesses to compete, especially in tough economic times, businesses must be able to adapt and initiate change which is impossible without a creative mindset!

I guess this means you need to know how to draw a box before you can think outside it.
Does this make you feel any better about your kid crafts clutter? It should!
---
Tips For a Well-Organized
Kids Crafts Area

Here are my tips for a well-organized kid crafts area:
Have a special place for crafts (if space permits)
Have a place to store the different kinds of art and craft supplies
Make the supplies available and easy to get to
Make it easy for the kids (and you) to see what they have
Make it age-appropriate and safe
Make it easy to clean up
Make sure the kids have clear rules about clean up when they are done
Listed below are some special suggestions for storing art and craft supplies in fun, kid-friendly ways.
---
Space : A Special Place for Crafting

As with most things in life, the less space you have in your home, the more imagination it will take on your part to create a space for creativity.
Here are my do's and don'ts:
I don't recommend letting kids craft in their bedroom because of the obvious mess as well as the potential lack of safety supervision.
If you don't have sufficient space in your home to set aside a special craft corner, then make your craft supplies mobile so you can carry them around.
The kitchen table is a great space to craft.
If the craft area is carpeted, it's best to put a sheet, paint drop cloth or other covering over the carpet.
It's also a good idea to put a vinyl cloth covering over the table to protect it from spills and spatters.
It's also best if the kids use aprons or towels pinned over their clothing. This becomes especially important for paint, glue, glitter and other messier crafts. It will help you save time doing laundry and save money replacing damaged clothes.
---

Storage Ideas for Art Supplies

You can spend a lot of money on specialty products to store art and craft supplies. If you have the money to purchase these, great! However, if you're on a tight budget, you can use less expensive items or repurpose things in your home.
I always said I thanked God for not having a lot of money because it forced me to think creatively and use what I have!

The best rules for storing kid crafts are:
Make it fun
Make it colorful
Make it accessible (easy to get out and put back)
---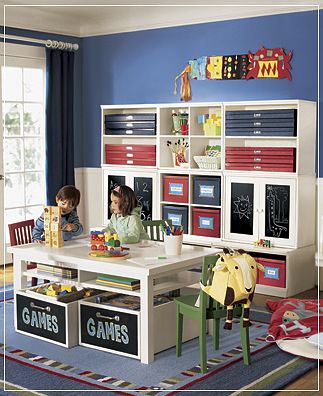 My Favorite Ideas
Here are some of my favorite kid crafts storage ideas that work well:

Obviously, the kids in the picture above have a lot of room and mom and dad have spent some money on this craft area. I show you this example for inspirational purposes.
A less costly alternative would be to find some wooden crates and paint them in bright colors. Add a couple of inexpensive plastic child chairs and . . . voila! . . . a less expensive alternative.
Ask your favorite paint supply or hardware store about chalk board paint. If you paint certain portions of the craft area with this special paint, your kids can use colorful chalk to draw pictures right on their craft table! You can even add a special substance to colored paint that allows it to become chalk board paint (again, check with your favorite paint store).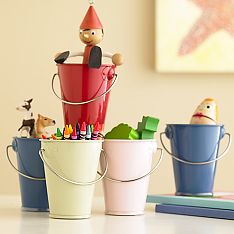 The lovely and colorful metal buckets here are very cute, but not within some people's budgets. A less expensive alternative would be to use empty, clean vegetable or coffee cans and spray paint them in your favorite colors. You can personalize them by painting their names on certain cans and labeling them for pens, crayons, etc.


One of my favorite organizing tools is over the door shoe hangers. They can be used for so many different applications such as shoes, toys, craft supplies, etc. Be sure to hang it low enough the kids can reach the top pockets. If it's too long, you can double it and tack the ends together and hang it from a swing arm rod so you can reach both sides. This is a great way to store rolls of stickers, paints and paint brushes, yarn and other items.

While I use rolling storage carts for many things, they are not particularly useful for kids. First, they are usually too tall for smaller children. Second, they are usually hard to roll on carpet. However, if you have hardwood floors and can find one that stands no more than 20-25 inches in height, you might consider buying one. Try to find one that has a handle for pushing/pulling. Also, it's best to find one that has both deep drawers as well as shallow drawers. Really good ones have inserts in the drawers that allow you to adjust the space for what you are storing.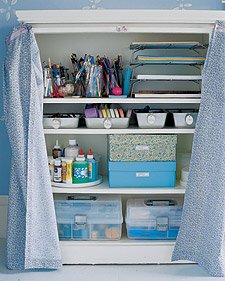 Many department and discount stores carry plastic storage boxes or tackle boxes that have multiple compartments of varying sizes. Most stores have a craft section that carries these boxes. I prefer ones that are clear. Clear plastic storage boxes work best so kids can easily see what's inside.
If you have an old nightstand or chest, you can easily turn it into a hand craft storage area. Take out the drawers and remove any doors. Put plywood in place of the drawers to make it into shelves. You can use hook and loop tape to cover the shelves with a pretty fabric. Paint the chest in bright colors. Decorate it with coordinating patterns (flowers, geometric shapes), etc. to make it fun, cute and exciting.

If you are handy with a sewing machine, many fabric stores carry patterns for items like this picture. This one is slipped over a large coffee can. The exterior storage pockets are handy for scissors and other items that you need easy access to.


Old canning jars make handy storage for yarn, string, stickers, buttons and other loose craft supplies.
Look around your house for small containers (plastic containers, baby food jars, coffee cans, etc.) for craft storage. You can even use the cardboard paper towel roll for storing ribbon and lace. Get creative!


If money permits, you can check into specialty craft storage devices like this one. Many are dedicated to specific crafts such as stamping, scrap booking, etc.
---

Final Thoughts on Storing
Kid Crafts
Using a little creativity and imagination, you and your kids can enjoy fun, peaceful times together building memories while creating and still maintain a decent amount of order and cleanliness.

Use these kid craft ideas in your home.
Now get out there and create something great!
---
Do You Have a Great Kid Crafts Storage Tip or Product Recommendation?
Do you have a great kids craft storage tip or product recommendation? Share it!
---
Links to Other Information
---
This page will provide you information for organizing kids, such as:
Click the lavender bar on the left and subscribe to the RSS feed to be notified of new listings as they become available.

---
Did you like this?  Please share it! Thanks in advance.
---
No matter where you are in life (stay-at-home mom, full or part time employee, retired, etc.) you can make a good income with a website.  Whether you write books, make crafts or something else, I highly recommend SBI.  It's the reason for this website.  Check it out below and become another solopreneur!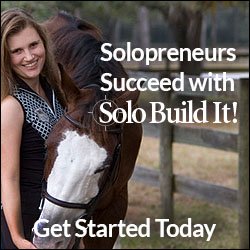 Hello!  This is Shelly Morton, the author of this website. I know you hear a lot of hype about making money from home and building a successful website.  I speak from experience as a solopreneur, I have succeeded with Solo Build It! There is simply no better way to build an online business.  Nothing else compares.  It's not a "get rich quick" scheme.  SBI provides you with all the tools and tips you need to be successful.  You put in the work and SBI will help you succeed!  SBI is simply the BEST way to get started for any "solopreneur."

---
Return to top of page