Fabric Organizer
Loading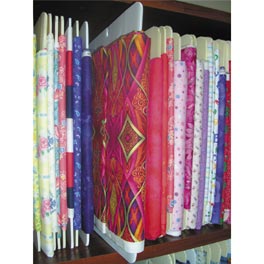 ---
This wonderful fabric organizer will help you convert your jumbled fabric stash into a well-ordered collection of mini-bolts -- you'll feel like you have a mini fabric store inside your house!
Each piece of fabric folds perfectly over the durable corrugated plastic. The large size can hold from 1/2 to several yards; the small size is perfect for smaller yardages and fat quarters. Each organizer is made of a lightweight acid-free plastic and includes tabs to hold the fabric. Both are sized to fit on a standard book shelf or in a file-cabinet drawer. Each has a hole to hang it on wall. 6/pkg.
The large organizers are $11.98 and the smaller ones are $7.98 at Clotilde.
---
A budget friendly idea would be to utilize sturdy cardboard, plastic or wood. Drill or punch a hole in the top and add Velcro loops to hold the fabric in place.
Utilizing these will keep your craft area in tip, top shape!
Happy Sewing!
---
Return to top of Fabric Organizer
Home|About Me|Site Map|Contact Me|What's New?|
---
Hi, this is Shelly Morton..the author of this website. I know you hear a lot about how to build an online business, but nothing compares to what you will see when you click the box below. Simply the best way to break the 9-5 routine!