Fabric Organizer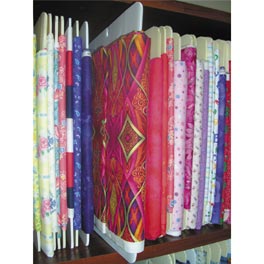 Fabric Organizer
Organize Your Stash!
---
Fabric Organizer:  One of my many hobbies is sewing.  Within the last couple of years, I began to be interested in making quilts.  Wow!
Whether you sew clothes for people, pets or dolls or whether you make home items like diaper bags, placemats or quilts, you can easily pile up the fabric.
Just browsing through a fabric store can be so tempting!  So many cute fabrics to choose from.  Then the seasonal fabrics.  Wow!  Who doesn't love fall fabrics and the special Christmas and other holiday fabrics that are available?
If temptation has gotten the better of you, and you find yourself with too big of a fabric stash, I've got you covered.
The tips on this page will help you with organizing your fabric stash and have everything ready for your next project!
---
My Favorite Fabric Organizers
This wonderful fabric organizer will help you convert your jumbled fabric stash into a well-ordered collection of mini bolts.  You'll feel like you have a mini fabric store inside your house!
Each piece of fabric folds perfectly over the durable plastic. While the one feature on the link is from Amazon, there are similar ones on other stores.
These easily fit on a standard bookshelf or in a file-cabinet drawer. Each has a hole to hang it on wall. 6/pkg.
---
Do It Yourself
A budget friendly idea would be to utilize sturdy cardboard, plastic or wood. Drill or punch a hole in the top and add Velcro loops to hold the fabric in place.
Fabric storage bins can also be helpful.  You can easily separate your fabric into categories such as:
Fabric Type (cotton, polyester, fun fur, etc.)
Color
Theme (cats, dogs, food, etc.)
Holiday


---
Excess Fabric or Crumbs
Fabric cutting invariably means you have fabric crumbs.  For my personal stash, I like to sort my crumbs into separate clear bins with lids as follows:
Scraps big enough to be used for another project
Scraps big enough to be cut into a scrap quilt
Scraps that are too small for another project or scrap quilt but could become a crazy quilt or a crumb quilt
Scraps too small or unusable (such as selvage edges) that I use them as stuffing for dolls, animals, etc.
By using this method, I hardly ever throw anything away.  Fabric is too expensive to be wasted!
I hope these fabric organizer tips has been helpful.
Happy Sewing!
---
Links to Other Helpful Pages
How to: Organize a Craft Room
Basics of Organizing:  Start Here
---
Click the lavender bar on the left and subscribe to the RSS feed to be notified of new listings as they become available.

---
Did you like this?  Please share it! Thanks in advance.
---
No matter where you are in life (stay-at-home mom, full or part time employee, retired, etc.) you can make a good income with a website.  Whether you write books, make crafts or something else, I highly recommend SBI.  It's the reason for this website.  Check it out below and become another solopreneur!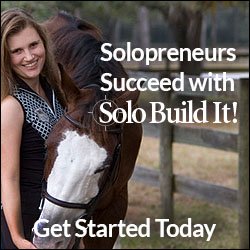 Hello!  This is Shelly Morton, the author of this website. I know you hear a lot of hype about making money from home and building a successful website.  I speak from experience as a solopreneur, I have succeeded with Solo Build It! There is simply no better way to build an online business.  Nothing else compares.  It's not a "get rich quick" scheme.  SBI provides you with all the tools and tips you need to be successful.  You put in the work and SBI will help you succeed!  SBI is simply the BEST way to get started for any "solopreneur."

---
Return to top of Fabric Organizer