This year is going by at light speed! Kids are back in school already and Labor Day is just a few days away – Phew!
Part of the perception of time passing so quickly for me is due to the fact that I've been very involved over the last couple of months helping my step-daughter plan her wedding. Once the dust settles, I plan on creating an entire new section on Straighten-Up-Now regarding planning special events, which naturally will include weddings. I would welcome your input and wisdom.
If you would like to share your adventures in wedding planning (what went right, what went wrong, tips and tricks you've learned,), please use the Contact Me page and let me hear from you. Once I get the wedding section complete, you will be able to post your favorite wedding photo on your very own page!
As always, I sincerely appreciate you taking your valuable time to read this newsletter.br>

Gratefully,


Shelly Morton
---
Tips in this issue:
Tips to Organize Your Recipe Collection
---
What's new on Straighten-Up-now.com?
In case you missed it, here are the newest pages that were added this month on Straighten-Up-Now.com:
Don't miss a thing! Subscribe to my RSS feed (it's free and easy). Simply click on the lavender bar on the left side of any page -- Subscribe To This Site You will be instantly notified every time new information is posted on www.straighten-up-now.com!
---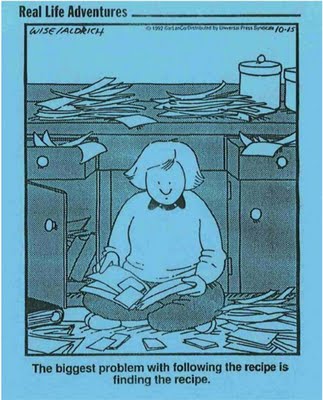 Organizing Your Recipe Collection
I love this cartoon – how true!
Collecting recipes can be fun, but the fun stops when you can't find your favorite recipe when you want it.
As with most areas of our lives, things can get out of hand when we collect and collect, but don't stop to organize the collection. Recipes included!
Whether you choose to organize your recipes and place them in a notebook or handle it all on your computer or on one of those online recipe websites (more about that later), here are a few simple steps that will help you get started:
Go through your recipe stash and look at them. Do you really need or want all of them? Probably not. Trash the ones you most likely will never use.
Sort your recipes according to these categories: Appetizers and snacks; Baked goods and desserts; Meats and main dishes; Salads, vegetables and side dishes; Soups and stews; Beverages; Sauces; Miscellaneous
You can create subcategories under each heading (but only if it will help you – not everyone needs this level of detail). For example: cookies, breads, cakes and pies can be subheadings within the "Baked goods and desserts" section.
Keep your recipes neat. If using a binder to keep your recipes, invest in a box of plastic storage sleeves and section dividers to keep your binder organized. You can be as plain or creative as you like. Print your recipes on colored paper or paper with a food theme. Use color coded tabs and put an index in the front of the binder or a list of recipes under each section.
You can choose to keep your recipes stored on your home computer. Make a subfolder for recipes and use subfolders for the categories similar to those suggested above.
There are many online websites that allow you to store and share recipes. Keep them organized the same way by creating folders. Many of these websites are free. Some allow you to store items in your own recipe box. [Note: I'm not endorsing any of these sites – this just a partial list to give you some ideas – explore for yourself, choose wisely]! Here is a list of some that I found: www.wegottaeat.com; www.allrecipes.com; www.epicurious.com; www.ichef.com
Also check out the following pages on www.straighten-up-now.com for more tips on kitchen organization:
---

Get The BUZZZZZZ Going!
Buzz it up!
Many pages on Straighten-Up-Now.com have an option for you to post comments, leave a tip, share a concern, ask a question, make a suggestion, leave a criticism, etc. Don't be shy. It's fun, easy and will help others. You can even post a picture! You don't have to be an IT Geek -- just fill in the blanks!
The information will be submitted to my email (monitoring purposes for decency and relevance). You can choose to remain anonymous. You will receive a reply when your information is posted. I never sell email or other personal information, so you're safe on Straighten-Up-Now.com.
It's also easy for you to rate comments left by others (including mine)!
You can also get the Buzz Going by clicking on the "Socialize It."
Share your favorite pages: Google, Yahoo Buzz, Facebook, MySpace, Stumbleupon, Technorati, del.icio.us, Twitter.
---
I hope you enjoyed the September 2009 issue of Messy Makeover Magazine. I consider it a privilege that you took your valuable time to subscribe and read this magazine.



If you feel you've missed an issue, please be sure to allow this publication on your email server/browser. You can always check the back issues by clicking on the link below.



Stay tuned for the next issue! Toodles!
---
Return to top of September 2009 Issue