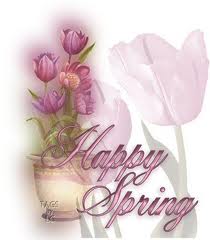 Spring Has Sprung!

I know I say this every Spring, but it's true – Spring is my favorite time of the year! Bright sunny days, warmer weather, the earth waking up to new life, Easter and the new life our Lord brings . . . what's not to love?

Unfortunately, Spring can also bring with bad storms. Hail and tornados are special concerns here in North Central Texas. This year also brought another problem . . . wildfires. Until recently, we have had very little rainfall and wildfires consumed thousands of acres of vegetation, homes, schools, churches and, sadly, some loss of human and animal life.

That's why I felt it was especially important to bring to your attention, in this issue, some tips on how to prepare for severe weather and storm-proofing your home. My husband and I looked over our home and are making a few updates to better weather-proof our home. We are also re-stocking some emergency supplies. Being prepared will help you and your family. Don't forget to pay it forward and assist those who may be in need during an emergency.

As always, thank you for your continued interest in Messy Makeover Magazine.

Gratefully,
Shelly Morton
www.straighten-up-now.com

P.S. . . . . By the way . . . be sure to check out the Book Reviews section to help you get started with your home organizing projects for 2011.
P.P.S. . . For those of you in the LA, California Area, check out the Stage Call
---
TIPS IN THIS ISSUE:
---
WHAT'S NEW ON STRAIGHTEN-UP-NOW.com


Here are some great page to check out: Subscribe To This Site. You will be instantly notified every time new information is posted on www.straighten-up-now.com! Your information is never sold or used for spam, so . . . No Worries!
---
SEASONAL ITEMS TO CHECK INTO


Here are some seasonal items to check into:
---
PRODUCT REVIEW


Back by popular demand, I'm including a product review this month

I love gardening, but have limited space for storing my tools. I like The Garden Rack & Basket by Schulte
. It gives you every bit of convenience and exclusive space management for storing garden tools. Gardeners or hobbyists can make great use of this nifty wall rack in terms of space usage and function. All your gardening tools can be organized on this garden rack. Since it is mounted on the wall, the garden rack occupies very little room space. Storage hooks can be used for hanging bigger or long handled tools like pitchforks, garden hose, etc. A detachable basket is integrated into this garden rack. Smaller garden tools can be stored in this basket. This basket, full of useful tools, can tag along with you in the garden for gardening activities. Other garden accessories like gloves, fertilizers, seeds, pesticides, etc. can be stocked on the shelf.
Features:
Versatile hook with unlimited options for custom organizational solutions
Removable basket carries tools to garden
Conveniently organizes all garden equipment
Integrated shelf stores gloves, shoes, fertilizer and more
Securely holds long handled tools
Attaches to the The Grid by Schulte or directly to the wall. Size: 13"tall x 23"wide x 10"deep
---

SEVERE WEATHER – HELP STORM-PROOF YOUR HOME



Is it just me? It seems that severe weather is on the rise in the USA and around the world?

Whether it's fire, flood, tornados, high winds, earth quakes, volcanoes or something else, severe weather can take a toll on you, your family and your home, your neighbors and your community.

As I've said before, a part of good home organizing is thinking ahead and being prepared. This would include preparing for severe weather. Good preparation can save lives – yours, your family, your neighbor or even total strangers!

The tips and links in the article below are a good place to begin your emergency preparedness:



Storm Proof Your Home



Remove dead or rotting trees and tree limbs that overhang your yard, home and driveway. Damage from trees and tree limbs in high winds are, unfortunately, very common. Trim overhanging tree branches so they don't damage the shingles on your house.
Moisture Proof your home by keeping debris out of your gutters and downspouts. Make sure your gutters are properly aligned and connected. This keeps water away from your foundation and getting into your house. Use adjustable/retractable/flexible downspout extenders in tight spaces. Replace damaged caulk around windows and doors.
Protect against power outagesthat can destroy electronic equipment. Power outages can be caused by both high winds as well as lightning. Install lightning rods outside and surge protectors inside. Unplug all unnecessary electronic appliances when severe weather is forecast.
Block high winds by caulking cracks or holes where cables, pipes and wires enter your home. If high winds are forecast, move garbage cans, patio furniture, grills and other items that could become airborne hazards.
Roofs should be well-maintained to stand up to wind and block out rain. Have your roof inspected each spring especially in areas prone to tornadoes and hail. Check the attic for leaks around flumes, plumbing vents and chimneys where damage to flashing may allow water to enter. Replace missing, curling or cracked shingles.
If money allows, consider building a storm shelter. This can be especially beneficial in areas prone to tornados. Tornadoes occur with little to no warning.
Prepare Your Family
Make a Family Emergency Plan. Families can easily get separated when disaster strikes. Make a plant how you will contact each other and where you will meet in case of an emergency. Be sure the plan includes places both inside and outside your community.
Plan in advance where you will take shelter in case of a tornado warning. Storm cellars or basements provide the best protection. Small interior rooms or hallways on the lowest floor is the next best choice. Vehicles, trailers or mobile homes do not provide good protection. Plan to go quickly to the nearest building with a strong foundation. Outside – lie flat in a ditch or other low-lying area.
Start an Emergency Supply Kit. It should include items such as non-perishable food, bottled water, a battery-powered or hand-crank radio, extra flashlights and batteries. Keep copies of prescription medications and medical supplies on hand in a safe area along with extra bedding, clothing, sleeping bags and pillows. Keep extra copies of important documents such as driver's license, Social Security card, proof of residence, insurance policies, wills, deeds, birth and marriage certificates and tax records in a safe deposit box at a bank or other location.
There are other tips for emergency preparedness found at www.ready.gov or the Federal Emergency Management Agency (FEMA)
Prepare ahead and be safe!
---
THE STYLE NETWORK'S CLEAN HOUSE SHOW IS LOOKING FOR CLUTTERED HOUSES IN THE LOS ANGELES AREA!!
Do you need help ridding your home of clutter?
Are you having a hard time letting go of stuff you don't need but just can't seem to part with?
Is your house in dire need of a makeover?
If AT LEAST 3 ROOMS IN YOUR HOUSE ARE MESSY, then you need CLEAN HOUSE!!!

If you OWN a SINGLE-FAMILY HOUSE (sorry, no apartments, condos, or townhouses) and at least 2 adults live in your home, then please email the following info to us and we'll be in touch with more details:

Names & relationships of EVERYONE living in the house. (You must OWN the house)
Address & phone number.
Photos or video of all your cluttered rooms.
Tell us about yourself and why you and your family need CLEAN HOUSE!!!
Do you own or rent your house?
For prompt attention, please answer ALL of the above questions!!

Email me at:
rosecastingcleanhouse@gmail.com
We look forward to hosting your yard sale!!
---

Get The BUZZZZZZ Going!
Buzz it up!
Many pages on Straighten-Up-Now.com have an option for you to post comments, leave a tip, share a concern, ask a question, make a suggestion, leave a criticism, etc. Don't be shy. It's fun, easy and will help others. You can even post a picture! You don't have to be an IT Geek -- just fill in the blanks!
The information will be submitted to my email (monitoring purposes for decency and relevance). You can choose to remain anonymous. You will receive a reply when your information is posted. I never sell email or other personal information, so you're safe on Straighten-Up-Now.com.
It's also easy for you to rate comments left by others (including mine)!
You can also get the Buzz Going by clicking on the "Socialize It."
Share your favorite pages: Google, Yahoo Buzz, Facebook, MySpace, Stumbleupon, Technorati, del.icio.us, Twitter.
---
I hope you enjoyed the May 2011 issue of Messy Makeover Magazine. I consider it a privilege that you took your valuable time to subscribe and read this magazine.



If you feel you've missed an issue, please be sure to allow this publication on your email server/browser. You can always check the back issues by clicking on the link below.



Stay tuned for the next issue! Toodles!
---
Return to top of May 2011 Issue
Hi, this is Shelly Morton..the author of this newsletter. I know you hear a lot about how to build an online business, but nothing compares to what you will see when you click the box below. Simply the best way to break the 9-5 routine!