Back to School
Loading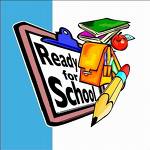 Back to School . . .Tips to Get Ready
Yep . . . sooner or later it does happen . . . it's time for school to start . . .YIPEE!! (and there was much parental rejoicing)!
Do I hear the sound of children groaning & moaning?
Preparing kids for another school year can be a hectic time. Shopping for school supplies, new clothes, new shoes, backpacks, immunizations, sports physicals . . . the list goes on and on!
---
I always remembered being excited about going back to school. Summer was great but, after awhile, it became harder to find creative ways to fill up a day. Plus . . . you get new clothes!! I even liked the smell of those school supplies. I guess I just loved the whole learning experience!
You and your kids may not be as enthusiastic about getting ready to go back to school as I was, but it doesn't have to be a time for getting stressed out.
---
You'll find back to school tips on this page to help everyone make the transition smoothly:
---
Back To School. . . Tips to Prepare
The best overall advice to being prepared is . . . start early!!
Don't wait until the Friday before school starts to get ready. Start now and you and the kiddos will have more peace of mind and less stress.
Here are some things you can do to prepare:
Clean Sweep -- Go through the house. Get rid of any of last year's paperwork that you don't want to keep. Check the basic principles of organizing under start here if you don't know how to get started. If you do wish to keep some of the items for sentimental reasons, get a 3-ring notebook to store them in. Be sure to label the notebook with the child's name, school and year.
Start Fresh -- While going through paperwork, also get rid of any craft supplies that are broken. Trash the broken pencils, cracked crayons, etc. Get rid of paper scraps, broken scissors and rulers.
Mending -- If you're not able to buy new clothing and book bags, get the old ones mended, cleaned and pressed now. Don't forget to donate useable clothing, shoes and furniture that no longer serves you or your children's needs.
Get Listed -- Get the school supply list NOW. Don't wait another minute. If your child is playing sports, get lists from the coaches on items to purchase and buy them ahead of time.

Stay Healthy -- A must on your back to school tips list is making sure your child's immunizations are up-to-date. Check with coaches about sports physicals and schedule those immediately.

Food & Snacks -- Plan now on breakfast, lunches and after school snacks. Purchase on-the-go foods (things that can be eaten in the car on the way to school). Keep special bins in the pantry and clearly label them. Put them within easy reach of the kids so they can help themselves. Suggestions: granola or breakfast bars, applesauce cups, almonds, cheese and cracker packets, juice boxes, etc. Keep fresh fruit, popcorn, nuts, cheese, etc. for healthy after-school snacking.
Uniformly Speaking -- A lot of schools have gone to uniforms. Items go quickly, so shop early. Have a mix of long and short sleeves, shirts, blouses, pants, etc. The uniforms are usually mix-and-match, so many outfits can be made by having a variety of item types.
Shop It -- Purchase those shoes, clothes, lunch boxes, book bags, school supplies, etc. early. Look for coupons and special sales to save dollars. By starting early, you'll have the best-of-the-best to choose from. No moaning about not having enough to wear because the local stores didn't buy enough school uniforms! And don't forget about socks and undies!
Cubbies -- Purchase cubbies to stash all sports gear in one place.
---
General Back to School Tips
Think about what happened last year. What worked? What didn't? How can you make learning fun?
Teaching your children these good organizing habits will help them throughout their lifetime journey.
Here are some other general tips that can help you and your little darlin's make it through this school year better than last time:
Prepare Tonight -- Prepare tonight for tomorrow morning. Get them to help with making lunches, filing papers, calendaring, picking out what they will wear the next day, packing their bags with books, homework, etc. There will be less stress for everyone. Make sure they put dirty clothes in the hampers and hang things up. A clean sweep at night makes a better tomorrow morning!

Get yourself ready . . . Pack Tonight -- If you have a range of wee ones you probably will need to pack many things in the car . . . strollers, diaper bags, sporting equipment, etc. Put everything you can into the car the night before. That includes your homework, briefcase, etc. Don't forget to pack your own lunch!
Breakfast spot -- Get your breakfast spot ready for in the morning. Have coffee/tea station stashed and ready to go. Get out the cereal, bowls, spoons, napkins. Have those bins stashed with on-the-go snacks for breakfast in the car.
I hope this page gives me an A+ on my card.
If you have back to school tips or kid organizing tips you'd like to share, be sure to contact me. You'll be given credit for every submission that gets published.
Share the wisdom!
---
Have a Great Back to School Story or Tip?
Do you have a favorite memory of going back to school? Do you have a funny back to school story you would like to share? Know of a great back to school tip you want to share with others?
For additional information, click the link below:
As School Starts, Chaos Often Srikes Home
---
Return to top of Back to School
Home|About Me|Site Map|Contact Me|What's New?|
---
Hi, this is Shelly Morton..the author of this website. I know you hear a lot about how to build an online business, but nothing compares to what you will see when you click the box below. Simply the best way to break the 9-5 routine!