January 2009 Issue
Welcome to returning subscribers! Thank you for your continued interest and support. I appreciate your time.
Welcome also to all the new subscribers this month! I hope you find this issue enjoyable and packed full of helpful information.
Contact me if there is information you would like to see in future issues. I'm here to serve you!
---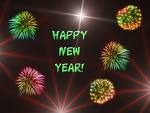 Happy 2009!!
Hard to believe that 2009 is already here! YIPEE!
I had someone tell me long ago that you know you're getting old when the days, months and years begin to fly by. I didn't think much about it until recently. I guess I AM getting old (but only physically --- otherwise, I'm tarp as a shack!) LOL!!
Here's hoping that you and your loved ones have a safe, happy, healthy and prosperous New Year!
---
Many people make New Year Resolutions to achieve "new beginnings" about this time every year. To help you with your goals, I've included items in this issue that I believe will help.

In this issue:
ORGANIZING YOUR CRAFT ROOM
ORGANIZING YOUR COMPUTER
NEAT RECEIPTS -- KEEP YOUR PAPER TO A MINIMUM
---

ORGANIZING YOUR CRAFT ROOM
If you can't get enough of your favorite happy hobby, then you probably have a craft room that needs some TLC. If one of your New Year Resolutions is to get more organized, you might want to start where you heart is . . . in your craft room.
Most creative people don't want to spend time organizing, they would rather be crafting! Does this sound like you?
Well . . . if you'd rather spend more time being creative, spending a small amount of time up front to organize your craft room will reap tremendous benefits in the long run. You'll be able to see things easier, locate what you need and get crafting instead of rummaging around trying to find what you're looking for. You also won't waste money buying something you already own!
Every craft has specific tools and "stuff." Painters, quilters, paper crafters all utilize different items. This article is not intend to be craft-specific. Take these general directions and apply them to your hobby of choice.
If you've been disorganized for awhile, you may find it hard to know where to start. Here's some suggestions:
Plan, Plan, Plan A little planning goes a long way. It will save you time and effort. Look at what you have. Think of the items in terms of "categories" (brushes, paper, paint, etc.) Make a list of items to purchase to store each category. Similar items should be conveniently stored together. See-though boxes are my favorite. I can see exactly what I have without opening the box.
Craft Area Set aside an area of your home for your craft projects. If you don't have a separate room, look for a closet that can be rearranged or even a chest of drawers. If you have a special place, you can fill the space with creative ideas that will make you more productive. If you don't have space for a special craft room and craft in a room with another purpose, use a divider to divide your crafting space from the remainder of the room.
Work Station & Tools If space and money permits, investing in a large, comfortable table to use as a workstation allows you to spread your projects out. You can see what you have to work with and you won't waste time rummaging to find the item you need. You may even want to consider getting a table at a secondhand store (you won't worry about getting glue, paint, etc. on it). Think functionality! Adding a tool rack that mounts to the wall will allow you to hang your tools where you can easily see what you need.
Shelving If space permits, install shelving to utilize your vertical space (this tends to be over-looked). You can store your plastic storage bins here for easy access.
Clean It Out Remove items not used for crafting (e.g. don't store extra canned goods, etc. in your craft area just because you have shelves). Keep your space strictly for crafts. Clean up at the close of every craft session, even if you're exhausted. If you get it out, put it back! This will keep your crafting space from becoming disorganized.
Sort & Donate It may be hard to let go of things, but if you have craft items you haven't used in years, considering sorting through your craft supplies and donating what you don't need or use. Senior Centers, Salvation Army, elementary teachers, etc. would be delighted to use your unused supplies.
Lighting Don't forget to think about adding some proper lighting in your crafting space. You don't have to add windows (unless you can afford to), but adding a floor, desk or swing arm lamp or two will shed light on your projects and save your eyesight!
---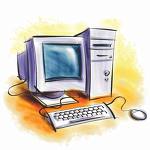 ORGANIZING YOUR COMPUTER
Ever had your computer crash and burn?? I hope not, but it IS a real possibility.
Computers have become such an essential part of everyday life in America today. Even though I didn't grow up with one, I have become quite dependent on mine, especially since I run this website from home!
Even if you're not using your computer for a home-based business, you should follow some basic principles to keep your information, photos, etc. on your computer safe and organized.
Back It Up! Backing up our computer files is something we all tend to procrastinate about. It takes up so much time! If you buckle down and back up all your files now, you can then set a schedule going forward to back them up periodically. It will take less time. The first things to make sure you back up are: (1) Tax Records, (2) Financial information, (3) Important correspondence (includes important emails), (4) Tax records, (5) Pictures, (6) Videos, and (7) Computer programs that were downloaded (if you purchased a program, your CD is the backup -- no need to have a second one).
External Hard Drive While CD's are good for backups of most common, smaller files and documents, consider purchasing an external hard drive to back up large volumes of pictures, videos and programs. Many are fairly inexpensive these days. They usually allow you to set automatic backups are specified intervals (which makes backing up a breeze)! Be sure to label your CD's with information on what is being stored and the date it was backed up.
To Keep Or Not To Keep? I know we were promised that computers would revolutionize us and make us a "paperless" society. I guess it's my legal background, but I believe in keeping hard copies of important documents as well as computerized versions. For one thing, many times printed copies of originals do not suffice when it comes down to legal wrangling over something. You can easily set up a simple filing system or store your documents in 3-ring binders. Consider keeping your especially important documents in a safe deposit box or home (fire proof) vault. This would include mortgage papers, birth certificates, church documents (baptismal records, etc.), deeds, wills, etc. Be sure to keep copies of all credit cards, driver's licenses, etc. In case of emergencies, these will come in handy.
Organize Your Computer Files Whether it's Word/Word Perfect documents, Excel spreadsheets or emails, organize your computer files similar to the way you organize your hard copy documents. Create folders and subfolder categories that make sense to you. Put documents in these folders immediately after they are created. Emails can easily be "dropped and dragged" into folders. This will help you easily find the digital document of your choice in a snap!
---
PRODUCT REVIEW -- NEAT RECEIPTS
Since this issue deals with organizing paper and computer records, I felt it might be a good time to introduce a wonderful electronic gadget for keeping up with receipts and other types of paperwork.
Neat Receipts is a mobile scanner and digital filing system that helps you manage all of your paperwork on the computer. Neat Receipts includes Neat Works software that identifies and extracts the important information from receipts, business cards and documents and automatically organizes it for you. All scanned documents can be searched by keyword so you can find exactly what you need. Neat Works software gives you an easy-to-use, intuitive application to manage all of your business and personal paperwork.
Key Features: Neat Works software uses OCR (character recognition) technology to identify and capture key information from scanned documents. On receipts, it looks for the date, vendor, amount and sales tax. On business cards, it captures all of the contact information: name, company, title, address, phone, email, website and fax. And on documents, the software captures all of the printed text and gives it to you in searchable PDF format. You can also perform keyword searches on any scanned item to find what you need quickly and easily.
What's It Good For? Scan in receipts to: (1) Save digital copies of receipts and records of vendors, dates, and totals. (2) Create expense reports and manage business and personal expenses, (3) Keep track of expenses for tax time (records accepted by the IRS), (4) Export data to PDF, Excel®, Quicken®, QuickBooks®, TurboTax®, (5) Keep digital images of cards and contact information, (6) Capture name, address, company title, etc., (7) Create your own searchable contact database, (8) Export data to Outlook and more, (9) Create searchable PDF files, (10) Edit text using copy/paste, (11) Organize and store in your digital filing system.
How Much & Where? Purchased directly from www.neatco.com, it runs approximately $200. However, I have seen Neat Receipts listed on Ebay for less.
---
I hope you enjoyed the January 2009 issue of Messy Makeover Magazine. I consider it a privilege that you took your valuable time to subscribe and read this magazine.

If you feel you've missed an issue, please be sure to allow this publication on your email server/browser. You can always check the back issues by clicking on the link below.

In next month's issue:
10 Commandments of Goal Setting
Organizing Paperwork
Product Review (another surprise)
Stay tuned for the next issue!
Toodles!
---
Return to top of January 2009 Issue