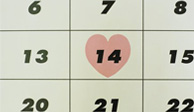 Happy Valentines Day!

How do you celebrate Valentines Day?

My husband and I maintain that you should make your spouse feel special every day. We exchange cards and give a small token of affection, but we feel blessed to be with each other every day.

Don't save it all for Valentines Day, find a way to give a little love every day!

I hope your weather is seasonably/reasonable. We had an unusually cold/icey February. The first two weeks of February had N. Central Texas in an icey grip for the better part of 10 days! Fortunately, it never lasts too long. By Sunday, February 13th, we were riding gocarts around a track without coats!!

Wishing you and your family the best in 2011.

By the way . . . be sure to check out the Book Reviews section to help you get started with your home organizing projects for 2011.

Thank you for your continued interest in Messy Makeover Magazine.

Gratefully,
Shelly Morton
www.straighten-up-now.com

---
Tips in this issue:
---
What's new on Straighten-Up-now.com?



In case you missed it, here are the newest pages that were added this month on Straighten-Up-Now.com:



Don't miss a thing! Subscribe to my RSS feed (it's free and easy). Simply click on the lavender bar on the left side of any page -- Subscribe To This Site You will be instantly notified every time new information is posted on www.straighten-up-now.com! Your information is never sold or used for spam. No worries!
---
SEASONAL ITEMS TO CHECK INTO
---

TOY STORAGE SOLUTIONS



I love kids but I know from my own experience as a parent (and now a grandparent) that toy clutter can easily take over your home. What to do?

These toy storage tips will help.

I recommend that you get the kids involved in organizing and cleaning up their toys. Some of the benefits of this are:

They learn to take responsibility for their possessions.

They learn to donate to others less fortunate.

They know where to store the toys they keep.

They help create the toy storage system and, therefore, are more likely to use it.


As with any organizing project, the basics are: Sort (trash, charity, repair, keep), categorize, store. Here are some questions you need to ask about the toys as you begin the sorting process:


Does the toy have missing or broken parts? (If the answer is "yes," Trash it. If the answer is "no," proceed with the rest of the questions).

Has the toy has been actively played with in the past 2 to 3 months on a regular basis? (If the answer is "no," put it in the "Donate" pile).

Should the toy be saved for a younger sibling to play with? Will the sibling actually play with it? (If the answer is "yes," put it in the "Keep" pile. If the answer is "no," put it in the "Donate" pile).

Does the item have collector, financial or sentimental value to you and/or your family? (If the answer is "yes," put it in the "Keep" pile. If the answer is "no," put it in the "Donate" pile).


When it comes to categorizing and storing the toys, the main categories of toys are:

Puzzles and board games

Stuffed toys and animals

Educational and building (Lego's, blocks, etc.)

Books

Videos and video games

Action figures and other small toys

Dolls and related items (clothing, furniture, etc.)

Creative (Polymer clay, crayons, paper, pens, stickers, etc.)

Cars, trucks, etc.


Each category has unique storage needs. Listed at the bottom of this newsletter are my favorite types of Toy Storage Solutions toy storage items. When it comes to kids and toys, remember:


Taming toy clutter will most likely be a daily routine for you as well as the kids. I know that may sound tiring (who needs one more thing to do each day?) . . . however, just like saving money, little things done routinely add up to big savings. For mom and dad, this means saving time, money and frustration, and

Time . . .picking up little things daily takes less time than dealing with a huge pile later or never (don't let it get bad – you can feel over-whelmed and most people avoid tasks that seem over-whelming).



Love and balance are key issues!!!



LOVE your kids always and express it each and every day. They will be grown up and gone before you know it.

BALANCE teaching them cleanliness and respect for their possessions with letting them be kids and loving them. Don't be over-zealous in maintaining an absolutely tidy space.



Happy Valentines Day!

---

MY FAVORITE TOY STORAGE ITEMS



PUZZLES/BOARD GAMES: SPORT STORAGE BENCH

Sports Upholstered Storage Ottoman

STUFFED ANIMALS: JUMBO HAMMOCK

Jumbo Toy Hammock - White - Includes Mounting Hooks

EDUCATIONAL/BUILDING/LEGOS: 12 BIN STORAGE ORGANIZER


Kid's 12 Bin Organizer in Primary Colors by Whitmor

BOOKS: WIRE STORAGE CUBES



Wire Storage Cubes in Purple

VIDEOS & VIDEO GAMES: STORE MORE 3 DRAWER UNIT



Store More 3 Drawer Unit

ACTION FIGURES & SMALL TOYS: UNDERBED STORAGE W/WHEELS



Kids Underbed Storage on Wheels Mahogany - Short

DOLLS & RELATED: TOY BOX



Nantucket Toy Box Bench in White by KidKraft®

ART & SUPPLIES: UTILITY CADDY



Super Utility Caddy - Grape by Romanoff Products

CARS/TRUCKS: TOY CAR CASE



Toy Car Case - Red by Romanoff Products

---

Get The BUZZZZZZ Going!

Buzz it up!

Many pages on Straighten-Up-Now.com have an option for you to post comments, leave a tip, share a concern, ask a question, make a suggestion, leave a criticism, etc. Don't be shy. It's fun, easy and will help others. You can even post a picture! You don't have to be an IT Geek -- just fill in the blanks!

The information will be submitted to my email (monitoring purposes for decency and relevance). You can choose to remain anonymous. You will receive a reply when your information is posted. I never sell email or other personal information, so you're safe on Straighten-Up-Now.com.

It's also easy for you to rate comments left by others (including mine)!

You can also get the Buzz Going by clicking on the "Socialize It."

Share your favorite pages: Google, Yahoo Buzz, Facebook, MySpace, Stumbleupon, Technorati, del.icio.us, Twitter.

---

I hope you enjoyed the February 2011 issue of Messy Makeover Magazine. I consider it a privilege that you took your valuable time to subscribe and read this magazine.



If you feel you've missed an issue, please be sure to allow this publication on your email server/browser. You can always check the back issues by clicking on the link below.



Stay tuned for the next issue! Toodles!

---

Return to top of February 2011 Issue Hi, this is Shelly Morton..the author of this newsletter. I know you hear a lot about how to build an online business, but nothing compares to what you will see when you click the box below. Simply the best way to break the 9-5 routine!